Arts on Sunday for Sunday 6 September 2009
6 September 2009
12:40 ethKnowcentrix
Multi-media artist Lisa Reihana is invited to London to take part in ethKnowcentrix: Museums Inside the Artist.
12.50 The New Zealand Post Book Awards
The New Zealand Post Book Awards have a new naming rights sponsor. Booksellers New Zealand CEO Lincoln Gould, Listener's books editor Guy Somerset and past Book Awards Judge, Linda Burgess speak about the changes.
1:00 Movie related items from the BBC
1:30 Make Way
Amelia Nurse finds out about sculptor Regan Gentry's new work to be unveiled in the new Michael Hirschfeld Gallery.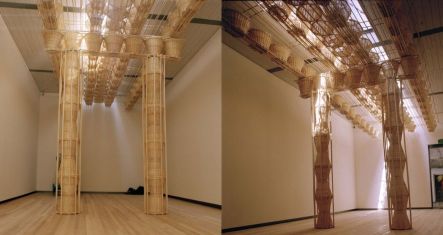 Regan Gentry. Make Way, 2009. Image courtesy of the artist and City Gallery Wellington. Photo: Andrew Beck
1:40 Music director Simon Over
Considered one of the most exciting projects in music for decades, the Southbank Sinfonia is Britain's newest orchestra, and its founder and music director Simon Over is currently in Dunedin conducting the Southern Sinfonia.
1:50 Lucy Orbell finds out about the reinvigoration of Margot Fonteyn.
2:00 The Laugh Track
New Zealand Canadian TV comedy star, Roman Dany-lo, who's in the country working with our comedians.
2:20 The Pit and the Pendulum
Local composer Lucien Johnson talks about her take on
one of Edgar Allan Poe's more bizarre horror stories The Pit and the Pendulum.
2:30 Chapter and Verse
This week Chapter and Verse looks at the 14th Going West literary festival, with talk that its future may be in doubt once Auckland's supercity kicks in.
2:50 Good Night - The End
Playwright Jo Randerson talks to Sonia Yee about domestic chores and what happens when Grim Reapers converge in a cafeteria.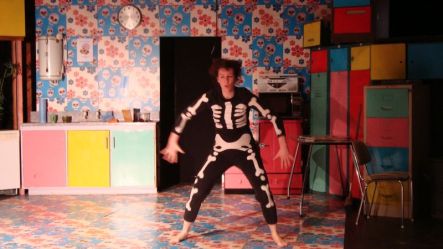 Jo Randerson in Good Night - The End
3:00 The Sunday Drama
The Day that Lehman Died by Matthew Solon follows the largest bankruptcy filed in US history that sent the already unstable global financial markets into an uncontrollable tailspin.