Arts on Sunday for Sunday 23 August 2009
23 August
1:30 2009 Coupe Mondiale World Accordion Championships and Festival
A celebration of the much maligned and misunderstood accordion, with New Zealand about to host the world champs.
Right: CIA President and New York-based accordionist Kevin Friedrich (left) with composer Gary Daverne
12:50 Richard Francis-Jones
The man and mind behind Auckland Art Gallery $113-million development project, Sydney-based architect Richard Francis-Jones.
1:00 At the Movies with Simon Morris
Simon Morris joins the rave reviews of Peter Jackson's new production, District 9. He's less enthusiastic for American toy story G I Joe, but discovers Coco Before Chanel has something even for the fashion-challenged.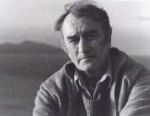 12:40 Sam Hunt pays tribute to friend and fellow poet Alistair Te Ariki Campbell (right), who died during the week
1:50 Music Awards
We chat to the three engineers who're up for the top award in their field in this year's Music Awards … Lee Prebble, Andrew Buckton and Mu.
2:00 The Laugh Track
One of the stars of homegrown movie Separation City - Alan Lovell.
2:20 Artist Graeme Thompson
On playing with old toys and turning them into something new and unsettling.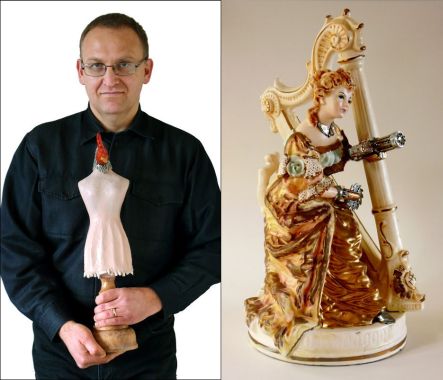 Graeme Thompson and his work, The Aristocrats - No.10 - (Harpist)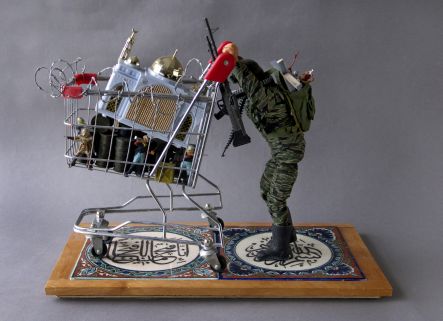 Foreign Policy, 2003
The Aristocrats - Nos 11 & 13 - (Man with fruit basket, Woman with fruit basket)
2:30 Chapter and Verse
More poetry, this time from Wellington's, and Canterbury writer Frankie McMillan who's Dressing for the Cannibals.

2:50 Lucy finds out about the revival of craft, and why it's so salient for these times
Right: One of Outdoor Knit's creations for Nanageddon - keeping handrails toasty in Wellington.
3:00 The Sunday Drama
The Lonesome Buckwhips: Aftermath (Part 4 of 4)
The final episode of the deadpan mockumentary.
It's almost beyond belief that a family band from such poor beginnings could achieve so much on the world stage in such a short time.
In this episode we hear live recordings from the Lonesome Buckwhips' astoundingly successful world tour - a tour that should have seen them set for life. But the Lonesome Buckwhips' journey was less a highway and more a game of snakes and ladders. So what happened? What went wrong?
The Lonesome Buckwhips is available to listen to online.
3.45 The BBC reports on an ambitious theatrical event, marking the twentieth anniversary of the Fall of the Berlin Wall