Arts on Sunday for Sunday 26 July 2009
26 July 2009
12:40 Cilla McQueen
2009-2010 Poet laureate Cilla McQueen (below) on her plans for her two year tenure and her first poem carrying the new title.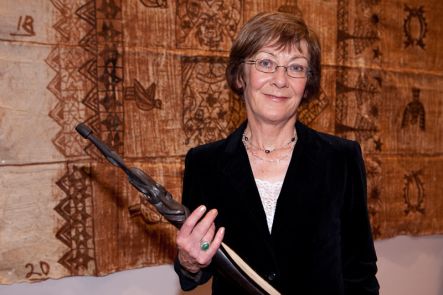 12:50 Arts Foundation Arts patron award
Recipient of this year's award, Adrienne, Lady Stewart, (right), and one of the four who'll share in the award, conductor Holly Mathieson.
1:00 At the Movies with Simon Morris
Simon joins the queues to see Harry Potter and the Half Blood Prince, and wonders if My Life In Ruins might be a little too feel-good. He also has a look at the graduation films of the Class of 2009 at the New Zealand Film School.

1:30 The Truth About Men
Lucy goes to a test screening of The Truth about Men, an upcoming feature film produced by Tom Scott (left), to find out how these screenings work.
1:40 Christchurch Arts Festival
Elizabeth O'Connor takes a look at some of the visual art events at the Christchurch Arts Festival.

1:50 Tales of Mystery & Imagination
Film director Geoff Murphy (right) on his documentary on Edgar Allan Poe.
2:00 The Laugh Track
Comedy picks from two of the actors in Ooh Baby Baby!, a physical theatre event at the Taranaki Arts Festival.
2:20 One Sharp! Lunch Theatre
A new theatre initiative was born in Wellington this week. Rattling Tongues' new venture is One Sharp! Lunch Theatre - a short play and a cup of hot soup at a pub on the edges of the CBD. Amelia Nurse talks to producer and actor Jed Brophy who plays the police inspector in Howard Brenton's Christie in Love - and there'll be two more plays in the initial six week run at The Southern Cross in Wellington.
2:30 Chapter and Verse
New poetry from Joanna Preston and , whose collections are called The Summer King and The Lustre Jug respectively.
Joanne Preston and Bernadette Hall, right, photographed in Annascaul, Co. Kerry in 2007. She is standing beside one of her heroes, the Antarctic explorer, Tom Crean.
2:50 Virtual books
Lincoln Gould from Booksellers New Zealand on the big issues facing the book industry at the moment.
3:00 The Sunday Drama
Two short plays. One, about a young rugby fan, desperate to be on the sideline when the NZ Maori play The Lions rugby, who will stop at nothing to win the last two tickets. The other play centres on a pair of New Zealand soldiers with very different approaches to life. They clash while on active service in the jungles of Malaysia .