Arts on Sunday for Sunday 19 July 2009
Sunday 19 July 2009
12:40 Portrait of an Unidentified Man
We talk to actor Pierre Brault, who's created a play about a play about the world's most notorious - and prolific - art forger of the 20th century, Elmyr de Hory.
12:50 Winnebago Man and the Best Worst Movie
Simon talks to two documentary makers who've explored the '15 minutes of fame' syndrome.
1:00 At the Movies with Simon Morris
Simon reviews would-be celebrity Bruno, and a new Italian film based on the true story of The Sicilian Girl. He also checks out some of the documentaries on show at the International Film Festival, including The Agony and Ecstasy of Phil Spector.
1:30 Wigmaker to the stars
Expat Richard Muller, who has just been home working on a TV series of Kaitangata Twitch by Margaret Mahey.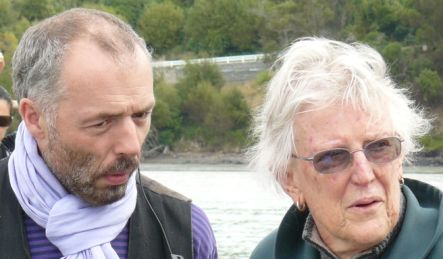 Richard Muller and Margaret Mahy on the set of Kaitangata Twitch
1:40 Venice Biennale
Lucy Orbell reports in from Venice with the hits and the misses at the Venice Biennale.
Francis Upritchard's Save Yourself, currently on exhibit and the Venice Biennale.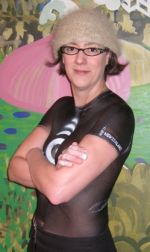 1:50 NZ Body Art 09
In anticipation of the NZ Body Art Awards next Saturday in Auckland, Amelia Nurse (right) met up with artist Dara Wakely in an icy Newtown studio to replace her Radio NZ t-shirt with one of the painted on variety.
The awards will be held on July 25 at the Bruce Mason Centre in Takapuna, on Auckland's North Shore.
2:00 The Laugh Track
Author and reviewer David Hill (left) shares his comedy favourites.
David, who is based in New Plymouth, frequently writes stories for the Radio New Zealand drama department.
2:20 Printing Types: New Zealand Type Design since 1870
The rich history of New Zealand typeface design is the subject of a new exhibition at Objectspace in Auckland.
2:30 Chapter and Verse
New poetry from - Just This, and Mary Cresswell - Nearest & Dearest.

2:50 S é raphine Pick
Artist Séraphine Pick on her upcoming survey show of 15 years of paintings that redefine traditional portraiture.
Séraphine Pick Untitled 1998. Oil on canvas. Collection of Christchurch Art Gallery Te Puna o Waiwhetu. Purchased 1998. Reproduced courtesy of the artist.
3:00 The Sunday Drama
Deep Vein Thrombosis - a romantic comedy written by Mel Johnston and Rochelle Savage. Shannon is sick of living in the village that is Wellington, but just as she plans to ship out, she finds someone who could be worth staying for!