Arts on Sunday for Sunday 17 August 2008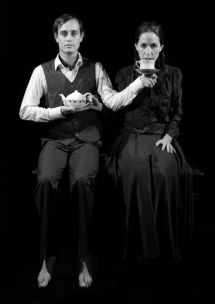 12:40 Grace
The story of a woman who faked her own death to follow her true love to New Zealand, is told by the woman's great granddaughter in a new play called Grace by the Rebel Alliance Theatre Company.
Pictured right: A scene from 'Grace'.
12:50 Indigenous Rights
Artist Fiona Jack challenges the New Zealand government's decision not to ratify the UN Declaration of Indigenous Rights in 2007.
Below: Fiona Jack's installation.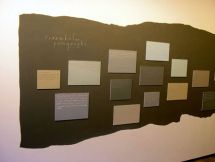 1:00 At the Movies with Simon Morris
Simon Morris looks at the nostalgic comedy Miss Pettigrew Lives For a Day, a contemporary satire Charlie Bartlett, and a festival favourite, the German-Turkish Edge of Heaven.

1:30 Linda Kitchen
Linda kitchen (pictured right) is an international Opera singer turned director, who now bases herself in New Zealand.
1:40 Art Venture
Auckland's Arts Regional Trust has established a new programme for creative entrepreneurs: Art Venture. The programme supports artists to learn the ins and outs of making a creative business work. Lucy Orbell speaks to programme director Elisabeth Vaneveld and 2008 Art Venture participant Justin Lewis.
1:55 Concert Review
Pete Rainey reviews the Anne Leese concert tour.
2:00 The Laugh Track:
Cartoonist and documentary maker, Tom Scott.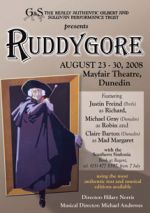 2:20 Ruddygore
The Dunedin Gilbert and Sullivan Society are into its ninth year of presenting G&S operas in the order in which they were written. This time it's the turn of Ruddygore. We talk to the director Hilary Norris and to Richard Dauntless himself, Justin Friend.
2:30 Writer's Block:
Chloe Lane (below left) talks about the second issue of the Hue & Cry Journal - Stakeout, and Jack Ross (below right) and Jan Kemp complete their Poets in Performance series of books and accompanying CDs.

2:50 Shakespeare
Professor Jean Howard (pictured right) has studied Shakespeare and in particular his tragedies, and she explodes a few myths.
3:00 Radio Drama: The Tiger's Tale
This drama-documentary marks the twentieth anniversary of the first democratic uprisings in Burma in August 1988 - but it does it by looking behind the headlines, at how writers, comedians, poets and ordinary people deal with censorship and suppression, with their words and stories being heard for the first time on air.