Arts on Sunday for Sunday 1 June 2008
12:40 Feature Interview: Lisa Reihana (Visual Art)
Lisa Reihana works on a new artwork for Te Papa and talks about her involvement in a major art project with Chicago artists.
12:50 Feature Interview (Patronage)
Long-time supporters of the arts, Roderick and Gillian Deane, have been honoured for their substantial and sustained generosity to the arts with the annual Arts Foundation of New Zealand Award for Patronage. The pair has been given $20,000 by the Arts Foundation to distribute to artists or arts projects of their choice.
Pictured left: Gillian and Roderick Deane.
1:04 At The Movies with Simon Morris
Simon Morris reviews the first Indiana Jones blockbuster in 20 years - Indiana Jones and the Kingdom of the Crystal Skull (see trailer below). In contrast there's a documentary about the space race of the Sixties - In the Shadow of the Moon, and the multi-award winning French film, The Diving Bell and the Butterfly.
1:30 Review: Priscilla, Queen of the Desert (Music)
Mika reviews the touring Aussie stage version of Priscilla, Queen of the Desert. Priscilla, the story of three fish out of water travelling across the Australian outback in an old bus, not only won an Oscar but is now Australia's own musical spectacular.
1:40 Feature Story: Conservators
(Visual Arts)
Lucy Orbell meets two conservators at Te Papa to find out the tricks of their intricate trade.
Pictured: Te Papa conservationist, Vicki, restoring a work on paper (below left). Artwork on paper by Rita Angus in humidity chamber (below right).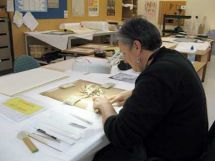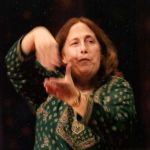 1:50 Feature Interview: Cathy Spagnoli (Literature)
US storyteller and author, Cathy Spagnoli (pictured left), shares her love of storytelling with those attending the Once Upon An Island Festival of Story on Waiheke this Queen's Birthday Weekend. Cathy, the author of 15 books, has travelled all over the world studying traditional tales and storytelling techniques, giving workshops and performances.
2:00 Writers Block: Laura Solomon (Literature)
Interviews with writer for stage and page, Laura Solomon, about her first collection of short stories, Alternative Medicine...and Mo Zhi Hong talks about setting his debut novel The Year of the Shanghai Shark.- in urban contemporary China during the height of the SARS crisis.
Pictured below - left to right: Alternative Medicine, Laura Solomon, The Year of the Shanghai Shark, Mo Zhi Hong.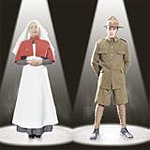 2:25 Radio Drama: King and Country by Dave Armstrong
This production won best Radio Drama at the recent NZ Radio Awards. It's a powerful and evocative drama based on the personal accounts of six New Zealanders during World War I.
3:05 Radio Drama : King and Country by Dave Armstrong
Continues.