Arts on Sunday for Sunday 11 May 2008
12:40 Feature Interview: Lara Macgregor (Theatre)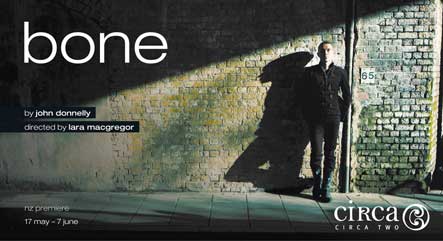 Young theatre director Lara Macgregor on directing Bone at Circa Theatre and her 9/11 experience.
12.50 Feature Interview (Visual Arts)
Interviews with two of the key people behind an artists' hui in the heart of Chicago. Close Encounters and is a multi-year collaborative project co-curated by Bruce Phillips and Chuck Thurow, who is the Director of the Hyde Park Art Center.
Pictured Below: The architectural image is the Hyde Park Art Center - the Glass panels on the front of the building are a digital facade that is used for video artwork.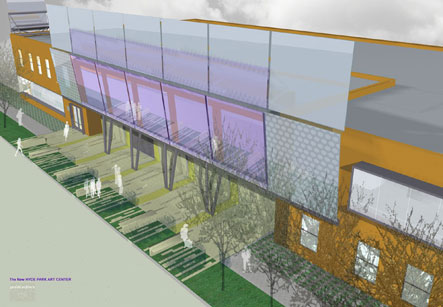 1:00 At the Movies with Simon Morris
Simon Morris looks at three familiar formats each given an unusual twist - blockbuster Iron Man, romantic comedy Dan In Real Life, and a German music-lesson drama, Four Minutes.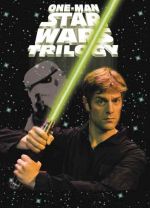 1:25 Review: One Man Star Wars (Comedy)
Michael Hurst reviews One Man Star Wars. Charles Ross, the writer and solo performer, plays all the characters, recreates the effects, sings the music, flies the ships, and fights both sides of the battles.
1:30 Feature Story: Auckland Art Gallery
Lucy Orbell is taken on a tour of the Auckland Art Gallery, ahead of its multi million dollar redevelopment.
Below: An artist's rendering of what the interior of the new main building will look like once development is completed.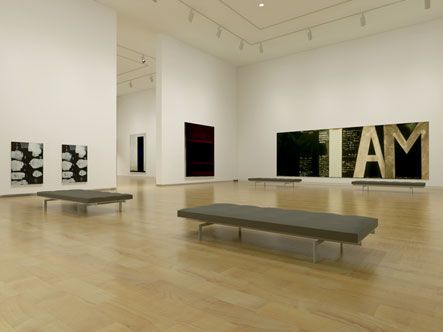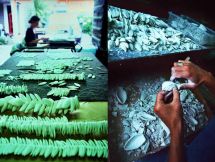 1:40 Feature Interview:
Emily Siddell (Visual Arts)
Glass artist Emily Siddell (left) combines her passions for glass, handmade crafts and her sub-tropical garden.
1:50 Review: La Boheme (Music)
Alan Badley reviews the NBR production of La Boheme, one of the best-loved of all operas, opens their 2008 Opera Season.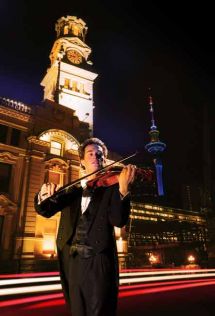 2:00 The Laugh Track: Paul Horan (Comedy)
TV comedy script writer Paul Horan (pictured right) on his second life as a librettist for Gareth Farr (pictured below), ahead of their joint operatic project with the Auckland Philharmonia Orchestra. Ex Stasis is billed as combination of musical, cantata and opera, an overlapping collection of conversations, myths and stories.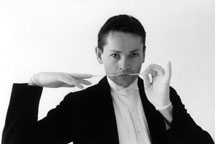 2:30 Writer's Block: (Literature)
In our weekly look at literature spot we talk to Author Charlotte Randall about her latest novel, The Crocus Hour (cover art pictured far right), and poet Chris Orsman whose new collection is called The Lakes Of Mars (cover artpictured near right).
2:50 Material Mansfield: (Literature)
Joanna Woods and Mary Morris escort Lynn around an exhibition of writer Katherine Mansfield's clothes, brought to New Zealand from around the world, and illustrated in a new book Material Mansfield.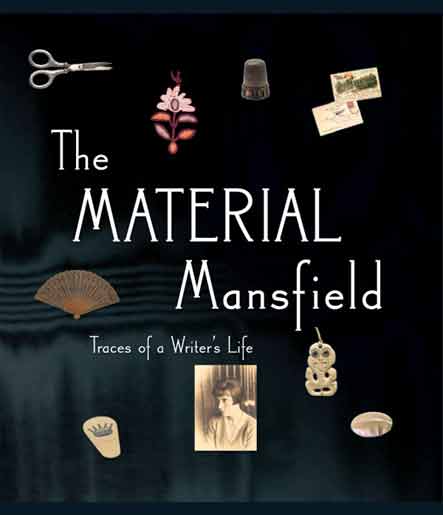 3:00 The Sunday Drama:Black Cat Murder Mystery
There's a corpse in flat 6; a mysterious hermit in flat 12; a cognitive neuroscientist looking for love in flat 3; a Russian businessman in flat 11; a Japanese bassoonist in flat 8; a seductive blonde in flat 5 - and an extremely unusual super sleuth. Part of the Worldplay radio drama series.