Arts on Sunday for Sunday 27 April 2008
12:40 Review: (Visual Arts) Foreign Correspondent Jon Stephenson reviews Army Art: Paintings by Captain Matt Gauldie at Auckland Museum Tamaki Gallery.
12:50 Feature Interview (Visual Arts)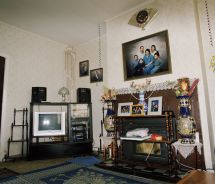 Edith Amituanai
House of Maui 2007 from Dèjeuner
Courtesy of Anna Miles Gallery and the artist.
Panel discussion with the four judges of the 2008 Walters Art Prize, the richest art prize in the country - Rhana Devenport, Elizabeth Caldwell, Andrew Clifford and Jon Bywater. The finalists are Edith Amituanai, Lisa Reihana, Peter Robinson and John Reynolds.
1:00 At the Movies with Simon Morris
Simon Morris reviews two more family movies - Dr Seuss's Horton Hears a Who, and Nim's Island, starring Jodie Foster and Little Miss Sunshine's Abigail Breslin. And Keanu Reeves reinvents himself as a tough cop in Street Kings.
1:30 Feature Interview (Festivals)
The new director of the Taupo Arts Festival has given it a new name - Erupt - and a new lease on life, we meet Drew James and find out what drives him.
1:40 Feature story by Lucy Orbell
Lucy visits Toi Poneke, the Wellington Arts Centre
1:50 Feature Interview (Dance)
Choreographer and New Zealand Arts Foundation Laureate, Shona McCullagh talks about her interactive new work.
2:00 The Laugh Track (Comedy)
Visiting British comedian Janie Godley spins her favourite comedy tracks.
2:20 Feature Interview
A BBC item about an exhibition celebrating the centenary of the birth of James Bond's creator, Ian Fleming.
2:30 Writer's Block: Illustrations for 'The Magpies' (Literature)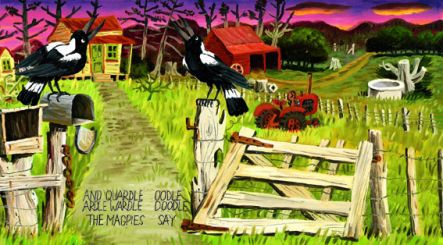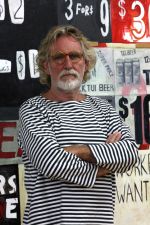 Artist/illustrator Dick Frizzell (right) on the full story, 20 years on, behind his illustrations for the reissued publication of Denis Glover's The Magpies.
And poets Emma Neale (left), Ben Brown and Elizabeth Smither talk about describing the pleasures and pitfalls of parenthood in poetry.
2.50 Feature Interview (Visual Art)

Glitter is the material of choice for artist Reuben Paterson. He talks about his new show, The Painter's Loft at Milford Galleries in Dunedin.
3:00 Radio Drama: The Straight Man
What defines the modern family? Who belongs? Who doesn't belong? What is a family in this, the age of divorce and separation? One man's struggles to fit into his new, extended family that has somehow assembled itself in his home.