Afternoons with Jesse Mulligan for Monday 22 June 2015
1:10 Your Song
Walk Away Renee.  Sung by Jimmy Lafave.  Requested by Stan Rivett.

1:20 New Zealand Retro: Maori Show Bands 
Today, the golden age of Maori showbands. These were entertainers who took their traditional songs and sense of fun, blended that with the pop songs of the time and added hard work and discipline. Simon Mercep is joined by Modern Maori Quartet members James Tito, Matariki Whatarau, Maaka Pohatu, Francis Kora and Matu Ngaropo.
Archival audio supplied by Ngā Taonga Sound & Vision.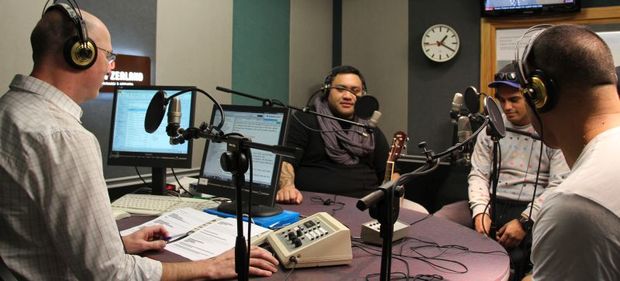 2:10 Giving Back With Bikes - Gary Sarten
Now we're off to north Taranaki to talk to a man who is both pursuing a past time he really enjoys, and, is doing something really helpful for young people in his community. His name is Gary Sarten, and his passion is bicycles, which is probably why some Waitara locals call him 'the bike dude'!
2:20 Drone Racing - Chris Jackson
Drone racing is taking off as a new sport in New Zealand. Two leagues have been started in New Zealand this year and a trans-Tasman battle is in the pipeline for later in the year. Chris Jackson is a senior structures engineer at Air New Zealand, and test pilot at X-craft Enterprises.
2:30 NZ Reading - Mercenary Territory
Connor was once the number one real estate sales person in the country, but in recent years the sales have been few and far between. Today he has an appointment with a Ponsonby widow.
2:45 Feature album
Sweet Baby James.  James Taylor. 
3:10 The Captain and the Cannibal - James Fairhead
One Sunday morning in November 1830, an American schooner called Antarctic discovered an uncharted island off the coast of Papua New Guinea. Islanders came out to the Antarctic, and the captain, fearing an attack, ordered cannon fire. As a result, one islander was captured, and, together with another man taken from another island, were brought all the way back to New York city, where they were made to perform in popular shows.  That story is now told in a new book by James Fairhead is a professor of Social anthropology at the University of Sussex. The book's called "The Captain and "the Cannibal": An Epic Story of Exploration, Kidnapping, and the Broadway Stage. Professor Fairhead is in Sussex.
3:30 Voices - Lynda Chanwai-Earle
There's a new mosque in the township of Taihape. It was initiated by Constable Abu after he encountered many travelling Muslims stopping to pray along busy State Highway One and built by the community of Taihape. Lynda Chanwai-Earle meets the locals and visits the new mosque to learn more.   
3:45 The Panel Pre-Show
What the world is talking about.  With Jim Mora, Noelle McCarthy, Neil Miller and Nicky Pellegrino.
MUSIC DETAILS:
Monday 22 June 2015  
YOUR SONG:  
ARTIST: Jimmy Lafave       
TITLE:   Walk Away Renee      
COMP:  Brown, Calilli, Sansone     
ALBUM: Jimmy Lafave: Favourites 1992-2001      
LABEL:  MRR    612998
RETRO:
ARTIST:     Maori Quin Tikis
TITLE:        Poi Poi Twist
COMP:     Rim D Paul & The Quin Tikis
ALBUM:       Waiata
LABEL:      EMI    680295
ARTIST:     Maori Volcanics
TITLE:        All I Ever Want Is You
COMP:     Waaka
ALBUM:       For Export Only
LABEL:      REVOLUTION    rvlp 1003
FEATURE ALBUM:
ARTIST:     James Taylor
TITLE:        Fire And Rain
COMP:     Taylor
ALBUM:       Sweet Baby James
LABEL:      WARNER    246043
ARTIST:     James Taylor
TITLE:        Taylor
COMP:     Sweet Baby James
ALBUM:       Sweet Baby James
LABEL:      WARNER    246043
ARTIST:     James Taylor
TITLE:        Country Road
COMP:     Taylor
ALBUM:       Sweet Baby James
LABEL:      WARNER    246043
 
THE PANEL:
ARTIST:     Metric
TITLE:        Help I'm Alive
COMP:     Emily Haines
ALBUM:       Fantasies
LABEL:      Last Gang Records