In the late 1700s and early 1800s, moko - the mummified heads of Maori chiefs - were items of curiosity to the Western World and hundreds were taken by explorers.
But American sea Captain Benjamin Morell went a step further when he came to the South Pacific in 1830. He kidnapped an indigenous man called Dako from New Guinea, and put him in a show in New York called "The Cannibals".
Professor James Fairhead tells the story of two men who never considered each other human in the book The Captain and "The Cannibal": An Epic Story of Exploration, Kidnapping, and the Broadway Stage.
Professor Fairhead spoke to Simon Mercep on Afternoons.
On the morning of 13 November, 1830, a twin-masted schooner helmed by American Captain Benjamin Morell approached an uncharted island off the coast of Papua New Guinea.
The islanders were scared. They had never seen men with white complexions.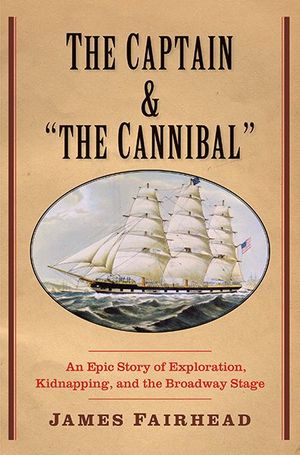 "The islanders came out in a threatening way," says Professor James Fairhead from Sussex University.
"They thought it was a ghost ship that would bring them misfortune."
Professor Fairhead says that misfortune did arrive on that ship. They fired their cannons and killed several men, and took one man named Dako captive.
He was taken to New York by Mr Morell and forced to perform in popular shows.
"The story had just disappeared from the face of the earth. I stumbled upon some traces of Dako, the New Guinean captive in some archives in New York and become interested in what had become of him," says Professor Fairhead.
He tells the story in his new book, The Captain and "the Cannibal": An Epic Story of Exploration, Kidnapping, and the Broadway Stage.
Before capturing Dako, Mr Morell and his crew had been seeking their fortunes, hunting seals off the coast of New Zealand.
But the seal population had been decimated by hunters who came before and Mr Morell, deeply in debt, came up with another idea to fund his voyages.
"He's a duplicitous man at heart. He's desperate to make a living, and he uses Dako," says Professor Fairhead. 
Along with a captive from another island, Mr Morell decides to use the men for entertainment.
"When they got to New York, he declared these were cannibals and he put on a show,"  Professor Fairhead explains.
"Dako had only just stepped off this vessel from an island in the Pacific. Suddenly they're in the midst of 1830's New York and they were absolutely terrified."
Professor Fairhead says thousands of spectators would come and see the islands in an exhibit.
But the men had no choice but to do what they were told.
"Morell needed to make money off Dako. Dako on the other hand was totally reliant on the Captain because only the Captain knew where his island was," according to Professor Fairhead. 
Mr Morell made enough money from the shows and books to make a return trip to Dako's island.
The Captain and "The Cannibal": An Epic Story of Exploration, Kidnapping, and the Broadway Stage reveals what happened on that return voyage, and whether Dako ever got back home again.