Afternoons with Jesse Mulligan for Thursday 9 April 2015
1:10 Your Song
Carrie Brown by Steve Earle and the Del McCoury band.  Chosen by Wilson Dixon 
1:20 Our New Zealand A to Z - Re-Enactors
Johnathon Reynolds (AKA Jarl Ragnar Rognovald - that's his viking name) is a member of the Auckland Norsemen. Vikki Subritzky is one of only two female jousters in New Zealand. Chris Gloyn (and his partner Petra) are part of the Imperial Romans group Imperium Romana.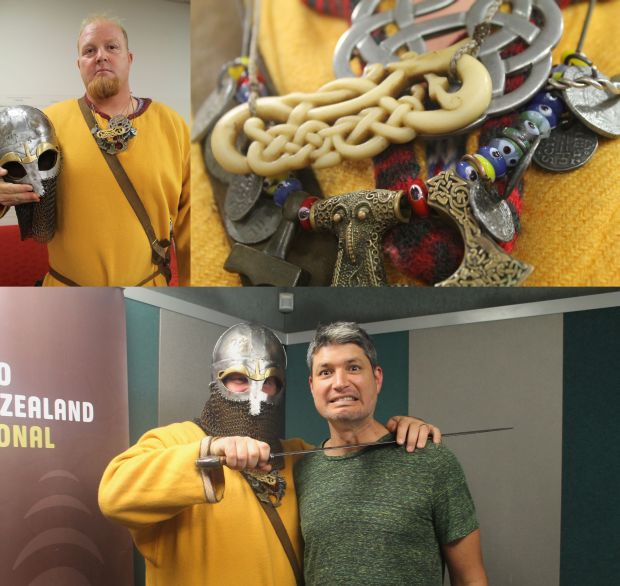 2:10 Time-lapse photographer - Joseph Michael
Time-lapse photographer Joseph Michael has just returned from Antarctica with some impressive shots
2:20 Cycling NZ - Joe Cooper  
Joe discusses his favourite cycling spots and the growing interest in cycling tourism in New Zealand
2:30 NZ Reading - Fragrance Rising
Gordon Coates, leader of the Reform Party and Prime Minister 1925 -1928 and a champion of Māori causes, meets a little lost Māori girl at the Thorndon Baths where he swims regularly.   His wife Marjorie, mother of their five daughters, is outraged at the newspaper photograph of him hand in hand with the child
2:45 Feature album
AC/DC "Back in Black" (1980) 
3:10 The Expats - Tristan Roake
Tristan is part of the successful dubstep duo, Truth
3:20 BBC Witness - Tenerife Air Crash
In 1977 the worst air accident in history happened when two jumbo jets crashed on a runway in Tenerife. Hear from the co-pilot of one of the planes who survived
3:35 Our Changing World - Alison Ballance
Alison Heather, from the University of Otago, has dual interests in sports doping.  She competes in ultramarathons, but also researches the negative effects of steroid use on human health, and develops tests for designer steroids.  She tells Alison Ballance about her research, which has included identifying undeclared steroids in nutraceuticals such as protein boosters
Stories from Our Changing World.
3:45 The Panel Pre-Show
What the world is talking about.  With Simon Mercep, Zara Potts, Barry Corbett and Denise L'Estrange-Corbet