Afternoons with Jesse Mulligan for Monday 19 January 2015
1:10 Your Song
Help! - The Beatles.  Nominated by Wayne Guppy of Upper Hutt. 

1:20 New Zealand Retro - 1991
Archival audio supplied by Ngā Taonga Sound & Vision.
2:10 HMNZS Wellington  - Lieutenant Commander Graham MacLean
The New Zealand Navy has had a busy time of it during its surveillance patrol in the Southern Ocean. The Offshore Patrol Vessel HMNZS Wellington confronted three vessels said to be fishing illegally for toothfish, or Chilean Sea Bass. First the Wellington found two boats - the Kunlun and the Songhua. Then in a separate incident it discovered a third boat, Yongding. The Wellington did not send crew on board the fishing boats, and has been criticised by New Zealand First for not being more forceful in its actions. The Navy says though it did gain valuable evidence. Now the Wellington is refueling in Dunedin and Lieutenant Commander Graham MacLean speaks with Simon.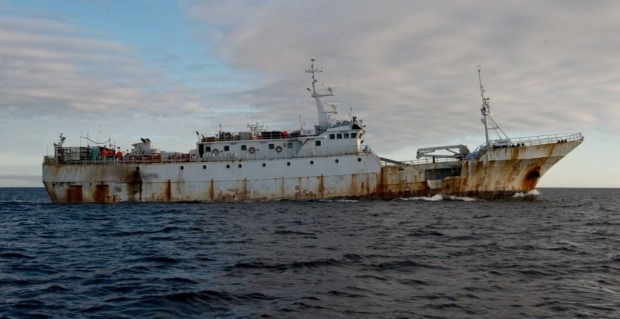 The Yongding. Image copyright New Zealand Defence Force.
2:20  AstroTwins - Scott Kelly
Scott Kelly is an astronaut who's making history with the help of his twin brother. In March, the American will embark on a mission to live on the International Space Station longer than any other American astronaut. What makes the trip particularly special, is that it could provide answers to how long-term space travel affects the genetic make-up and health of astronauts. Scott's identical twin brother, retired astronaut Mark Kelly, will stay on earth and undergo similar tests to his brother.
2:30 NZ Reading - Rangatira
Ngati Wai chief Paratene Te Manu begins to recount the time he and a group of high-born North Island Māori spent in Victorian England. He and 13 Rangatira men and women set sail from Auckland in February 1863 and share cramped berths below deck in a voyage of 100 nights.
2:45 Feature album
In The Lonely Hour - Sam Smith
3:10 A Different Class Of Murder
A new and startling theory about what happened to Lord Lucan, the aristocrat suspected of murdering his childrens' nanny and then disappearing for 40 years.  Journalist and author Laura Thompson says she has uncovered new evidence that suggests Lord Lucan fled the country.     
3:30 Voices
Lynda Chanwai-Earle goes to Waiheke lsland to meet a legendary New Zealand performer behind Monkey - a theatre production based on classic Chinese mythology about the irreverent Monkey God. What's special about this production? This solo performance could have been the world's longest performing play, taking 2 and a half years in total to perform.
3:45 The Panel Pre-Show with Julie Moffett, Jim Mora, Ellen Read and Nicky Pellegrino.