Afternoons with Jesse Mulligan for Wednesday 19 November 2014
1:10 Best song ever written.  Dialling A Prayer - Straitjacket Fits.  Nominated by Ross Bell of Wellington.
1:20 Music Trivia game 
2:10 John Albert
It's been 112 years since the SS Ventnor sank off the coast of New Zealand. And it's finally be found. The steamship was on its way from Wellington to Hong Kong when it sank off the west coat of Northland in 1902. It claimed the lives of most of her crew, and consigned to the ocean 499 coffins, carrying the remains of Chinese gold miners who were being taken home for burial. The wreck lies in about 150 metres of water, 21km due west of Hokianga harbour.  John Albert is the Chairman of the Ventnor Project Group and he was on the salvage boat when the first dive group went down.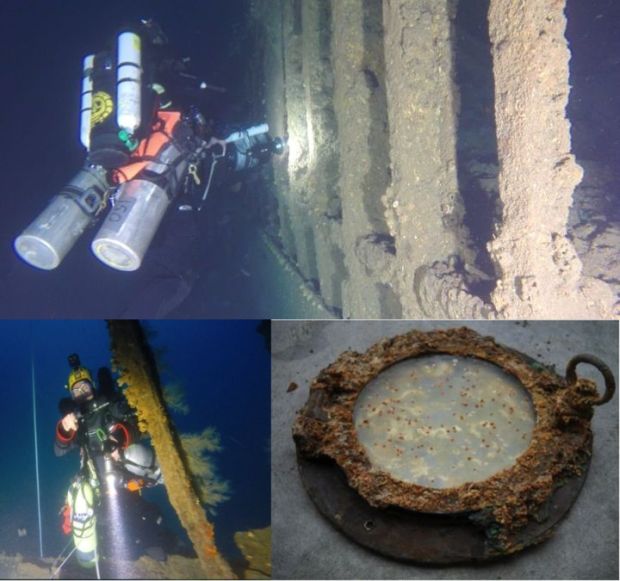 Ventnor wreck - Photos and video courtesy Definitive Productions
2:20 Gunnar Halldórsson
Commuting to Iceland from the South Island may seem a bit extreme. But for some New Zealand butchers it's becoming a yearly trek. The group travel to Iceland for its lamb processing season where they spend two months working at the SAH Products slaughterhouse near Blonduos. Gunnar Halldórsson is the CEO of at the works.
2:30 NZ Reading.  David McPhail with part eight of his memoir The Years Before my Death. 
2:45 Feature Album.  Brutal Romantic, the new one from Brooke Fraser. (2014)
Here, Brooke Fraser appears on Music 101
And here, she discusses ditching her guitar.
3:10 Online with Hamish MacEwan.
Netflix coming to NZ in March
Censor may charge Slingshot, Orcon - November 7
Fitness app data being used in the courtroom.
More Than 90 Percent of U.S. Households Have Three or More Devices Pinging the Internet
Nokia Announces N1 Tablet: 7.9" & Powered By Android
Rise of the Robot Security Guards
3:30 New Zealand Society
Growing Roots Chinese Refuge.  Lynda Chanwai-Earle and Justin Gregory hear from former Chinese refugees - children at the time -  survivors of the Japanese occupation of China during the Second World War.
3:45 The Panel Pre-Show with Zara Potts, Jim Mora, Steve McCabe and Tainui Stevens.