Afternoons with Jesse Mulligan for Tuesday 18 November 2014
1:10 Best song ever written.  If Tomorrow Never Comes by Garth Brooks was nominated by Dave Cockerton of Auckland.
1:20 The Critics. 
TV review   Irene Gardiner
Books    Mary McCallum
The Naturalist,  Thom Conroy
Music    Colin Morris
ARTIST: Barry Manilow with Jimmy Durante                                                        
TITLE:                    The Songs Gotta Come From The Heart
COMP:  Jules Styne, Sammy Cahn
DUR:                      2' 08"                                                                                    
ALBUM:               My Dream Duets  -  Track 1
LABEL:   Verve 3775677 
ARTIST: Barry Manilow and John Denver                                                             
TITLE:                    Sunshine On My Shoulders                                       
COMP:  John Denver, Dick Kniss, Mike Taylor
DUR:                      4' 08"                                                                                    
ALBUM:               My Dream Duets  -  Track 5
LABEL:   Verve 3775677 
Web      Ben Gracewood
An Unprecedented Look at Stuxnet, the World's First Digital Weapon
Brazil Building Internet Cable to Portugal to Avoid NSA Surveillance
2:10 Labour Party Leadership - Brent Edwards
We cross live to our political editor Brent Edwards to discuss the announcement of Andrew Little leadership of the Labour Party.
2:20  Ballantynes' Fire - Noel Street
Today marks 67 years since the deadly fire at Ballantynes Department Store in Christchurch. 41 people died when the store was razed by one of the worst fires in New Zealand's history. The memorial commemorating the lives of those who died in the fire was damaged in the Canterbury earthquakes. But, it has been rebuilt and was this afternoon unveiled by the Christchurch Mayor, Lianne Dalziel. Noel Street lost his sister Joyce in the fire and was at the ceremony today.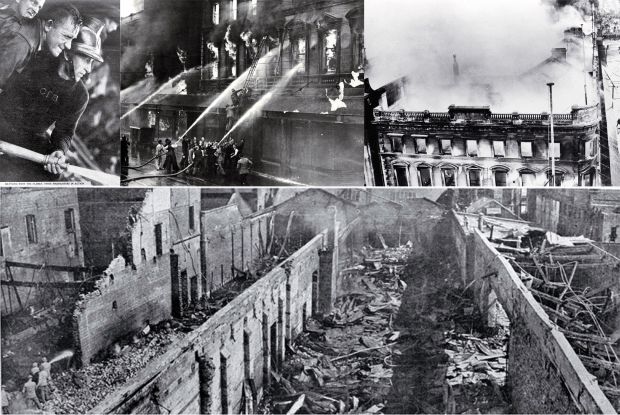 Photos obtained from the collection, and used with permission of, Christchurch City Libraries
2:30 NZ Reading.  David McPhail, with episode seven of his memoir The Years Before my Death.
2:45 Feature album.  Nostalgia - Annie Lennox (2014). 
3:10 Maggie Haertsch.  With the stroke of a wand, and a lot of hard work... a new therapy is helping kids with a mild form of cerebral palsy called hemiplegia.  These children have paralysis on one side of their bodies.  The innovative therapy uses magic, like slight of hand card tricks, to develop hand and arm strength.  The Amazing Magic Club is a programme with  the Arts Health Institute, in New South Wales.  We talk to the woman who started the magic therapy,  Maggie Haertsch. 
3:30 Dunedin's Secret Seabird Cliffs. Nearly two decades ago Dunedin conservationist Graeme Loh discovered a small population of fairy prions breeding halfway down a steep sea cliff in the suburb of St Clair. Alison Ballance abseils down the cliffs at night with Graeme for the kind of seabird encounter that is normally possible only on predator-free islands.
Stories from Our Changing World.
3:45 The Panel Pre-Show with Zara Potts, Jim Mora, Michelle Boag and Brian Edwards.