Afternoons with Jesse Mulligan for Friday 14 November 2014
1:10 Best Song Ever Written.  'Fill the World With Love' by Petula Clark, nominated by Dr Brennan Kerr Nelson from Christchurch.
1:20 NZ Live - Wellington musician, Mat Enright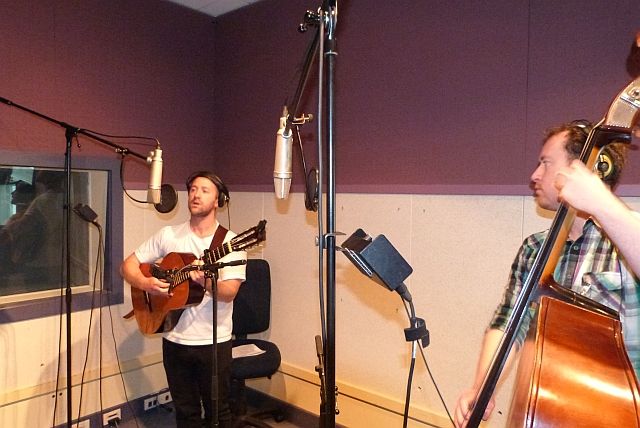 Mat Enright and Aaron Stewart
2.10 Kissing Bug. Researchers in the United States are warning a deadly parasite is killing thousands of people, many of whom are never diagnosed. Chagas disease is transmitted by blood-sucking insects caused kissing bugs which bite people on the face at night. Simon speaks with Melissa Nolan Garcia, an Epidemiologist at Baylor College of Medicine in Houston Texas.
2:20 New Zealand Society: The Kapiti Arts Trail
Every year, Kapiti Coast artists throw open their doors for the annual Kapiti Arts Trail. This year, 62 artists from Paekakariki to Otaki will welcome the public into their studios to view and discuss their work. Some will be working on new works, while others will be displaying finished items. Amelia Nurse visits Kate Elder in Paraparaumu Beach.
Visit a photo gallery of art works from the Kapiti Arts Trail
2.30 NZ Reading.  David McPhail, with episode five of his memoir The Years Before my Death.
2.45 Feature Album - Who Are You - The Who
3.10 Food, Wine and Movies
3.10  Fresh Fast Food - Julie Biuso
Recipe: Pan-fried Chicken Salad with Grapes, Almonds and Raspberry Vinegar
3.20  Weekend Wine - Michael Cooper
Under $15 - Lindauer Rosé
$15-$30 - Church Road Hawke's Bay Pinot Gris 2014
Over $30 - Giesen The August Marlborough Sauvignon Blanc 2012   
3.26 Movie Review - Sarah McMullan
3:45 The Panel Pre-Show with Julie Moffett, Jim Mora, Ella Henry and Ellen Read.