Afternoons with Jesse Mulligan for Wednesday 8 October 2014
1:10 Best song ever written  'Goodbye Yellow Brick Road' by Elton John chosen by Jane Richardson of Palmerston North.
1:20 Music Trivia game 
2:10 Rare books for Kapiti book fair - Joe Franklin
Two ancient and rare books have been anonymously gifted to a Kapiti book fair. The annual Lions Monster Bookfair receives about 60,000 donated books per year. And this year, spokesperson Joe Franklin, spotted the two books. After a bit of research he found one of the books was 326 years old and the other 264 years old.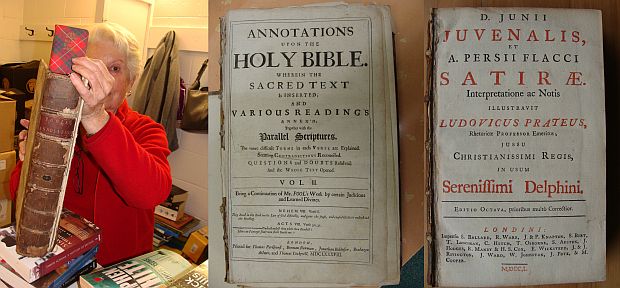 Photos by Joe Franklin
2:20 Total lunar eclipse - Alan Gilmore
Tonight, a total lunar eclipse will turn the full moon a bronzy-red colour for almost an hour. Astronomers and star-gazers won't want to miss it, as it's the last total eclipse that we'll see in New Zealand until 2018. Alan Gilmore is the resident superintendent at Mt John University Observatory and he talks about what we can expect to see.
2:30 NZ Reading  'Landings' by Jenny Pattrick.  Read by Stuart Devenie and Perry Piercy.
2:45 Feature album  'Interlude' is the latest album from British jazz-pop singer-songwriter Jamie Cullum. 
3:10 Online with Hamish MacEwan.
3:30 New Zealand Society Lynda Chanwai-Earle. 
It's dangerous work and often in very dirty conditions. Ever wondered what a blow torch and chainsaw sounded like underwater? Commercial divers maintain and build our ports and waterways every day of the year.
3:45 The Panel Pre-Show with Jim Mora, Zara Potts, Michelle Boag and Dr Brian Edwards.