Afternoons with Jesse Mulligan for Wednesday 24 September 2014
SHOW NOTES
1:10 Best song ever written. Patrick McCarthy of Galatea, Bay of Plenty has nominated 'That I would be Good' by Alanis Morissette.
1:20 Music Trivia game.  All the songs contain examples of  Neologism.  It's a newly coined term or word or phrase that may be in the process of entering common use but that has not yet been accepted into mainstream language.  Often also just plain made up words.  
ARTIST:    Fifth Dimension
TITLE:        Stoned Soul Picnic
COMP:    Laura Nyro
ALBUM:    Up, Up And Away: The Definitive Collection  
LABEL:    Artista 218961
                                            
ARTIST:    Destiny's Child
TITLE:        Bootylicious
COMP:    Beyonce Knowles, Rob Furari, Falonte Moore, Stevie Nicks.
ALBUM:    Destiny's Child #1s  
LABEL:    Columbia 755612
                                            
ARTIST:    Roger Miller
TITLE:        Dang Me
COMP:    Roger Miller
ALBUM:    Roger Miller: All Time Greatest Hits
LABEL:    Mercury / B 0000233
                                            
ARTIST:    Cab Calloway
TITLE:        Minnie The Moocher
COMP:    Cab Calloway, Irving Mills
ALBUM:    The Blues Brothers  
LABEL:    Atlantic 250 715
                                            
ARTIST:    The Steve Miller Band
TITLE:        The Joker
COMP:    Steve Miller
ALBUM:    Young Hearts: Complete Greatest Hits
LABEL:    Capitol / SMBPRO 1
                                            
ARTIST:    ELO
TITLE:        Don't Bring Me Down
COMP:    Jeff Lynne
ALBUM:    The Very Best of Electric Light Orchestra:  All Over The World  
LABEL:    Epic 694489
                                            
ARTIST:    Sly & The Family Stone
TITLE:        Everyday People
COMP:    Sylvester Stewart
ALBUM:    The Essential Sly & The Family Stone  
LABEL:    Epic 986 867
                                            
ARTIST:    New Radicals
TITLE:        You Get What You Give
COMP:    Greg Alexander, Rick Nowles
ALBUM:    Latest & Greatest Driving Rock Anthems  
LABEL:    Universal 589340
2:10 SV Te Aroha restoration - Tex.  Plans are in action for a 105-year-old Kauri Schooner to be fully restored. The SV Te Aroha was built at Totara North out of a single ancient kauri tree. And its current owner, Tex, says it's a New Zealand treasure. Tex chats with Simon about the project. See more about the Tall Ship Te Aroha project.
2:20 Wurlitzer Photoplayer restoration - Don Paynter.  One of only two wurlitzer photoplayers left in the world will be on show in the Waikato, for the first time in nearly 60 years. Don Paynter came across the century-old relic in a garden shed in Auckland and has since undertaken a massive project to restore the photoplayer. Don is the secretary of the Photoplayer Restoration Trust and speaks with Simon.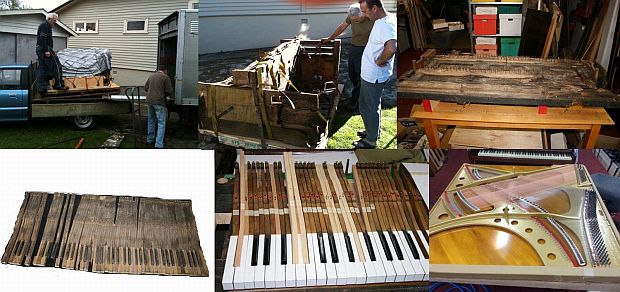 2:30 NZ Reading.  Tina Cook reads the final part of 'Skeleton In The Closet'  by Susy Pointon.
2:45 Feature album.  'Cheek to Cheek' - the collaborative album by the unlikely combination of Tony Bennett and Lady Gaga. Just out.
3:10 Online with Hamish MacEwan.     
Nielsen Finds Older Adults Are Embracing Digital Video
New smartphone app gives sight to the blind
How Instagram's drug deals go undetected
Netflix launches new site specifically for spoiling shows.  The streaming service believe the days of spoiler alerts are gone, providing a hub for social spoiling.
Student fakes five-week dream holiday using Photoshop and Facebook.
Six steps to perfect mobile phone etiquette.  People are annoying.  Add mobile phones to the mix and they can become unbearable.
3:30 New Zealand Society
Tales of life in Aotearoa.
3:45 The Panel Pre-Show.  Zara Potts, Jim Mora, Neil Miller and Steve McCabe talk about what the world is talking about.