Afternoons with Jesse Mulligan for Monday 22 September 2014
1:10 Best Song Ever Written - 'Joan of Arc' by Leonard Cohen, chosen by Doug Stevens of Wellington
1:20 NZ Retro: The Year - 2003
Archival audio supplied by Ngā Taonga Sound & Vision.
2:10 Living the dream - Imagine selling your house to sail around the South Pacific for nearly 10 years. It sounds like a dream for many, but it is the reality of Canadian natives Paul and Mary Major. They first arrived in Nelson five years ago and have sailing right around the country in that time. But Paul and Mary are swapping our Nelson, for a town called Nelson in Canada very soon. They are aboard their 12 metre catamaran Bella Via currently anchored in Oneroa in preparation for the Auckland boat show this week.
Gallery: Paul and Mary Major and their catamaran Bella Via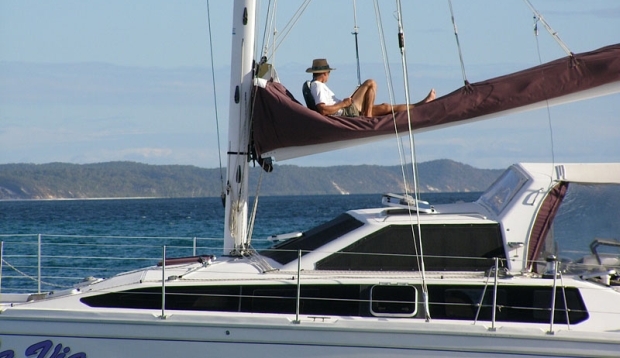 Photograph by Paul Major.
2:20 Meteor over Marlborough - Many of us grew up either watching or playing cricket... it's our national summer sport after all. Whether it was in the backyard, at the local cricket club or on the world stage the fast bowlers were the ones to fear. We've had a couple of speedsters with the likes of Sir Richard Hadlee and Shane Bond... but the fastest of them all is thought to be Gary Bartlett. His life and cricket career has been documented in a new book Meteor Over Marlborough:The Gary Bartlett Story, written by former sports journalist John Alexander.

Left: Full steam ahead against Ian Craig's Australian team during Bartlett's debut series in 1960. Right: Gary Bartlett batting and Sir Graham Henry wicket-keeping during a club match at Hagley Park in Christchurch between West Christchurch University (Bartlett's club) and High School Old Boys) in the mid 1960s. Henry and Bartlett played together for a season for Canterbury. Images courtesy of John Alexander.
2:30 NZ Reading - Tina Cook reads the first of a three part story series  'Skeleton In The Closet' by Susy Pointon.
MUSIC DETAILS      
Mysterious Mind', off album Serene Documentary. Comp. Richard Mead  CHAP 368
2:45 Feature Album -  Bon Iver - Bon Iver (2011)
3:10 Feature Author - 'Big Business and Big Data'. Author Adam Tanner from Harvard University explains why we shouldn't be so concerned about the kind of data collection Edward Snowden revealed.. What we should be really concerned about is how businesses collect and use data. The most extreme of examples of this, he says, are in the gambling industry. His new book is called 'What Stays in Vegas'.   
The link: http://www.whatstaysinvegas.us
3:30 Sikh Early Childhood Centre - Lynda Chanwai-Earle: Are you a parent and new to the country? Do your toddlers speak only Punjabi? For some new migrants, this crèche is a godsend. Lynda Chanwai-Earle is in Auckland joining playtime with the children of the first Sikh Early Childhood centre in the country.
The link: Voices
3:45 The Panel Pre-Show - Zoe George