Afternoons with Jesse Mulligan for Monday 30 September 2013
1:10 Best Song Ever Written - Sarah Frizzell of Auckland nominated 'Something' by The Beatles.   
1:25 8 Months To Mars - Philip Smith of Great Southern Film & Television is our next guest to Mars - one of our most successful producers - shows like  Lion Man, Eating Media Lunch, The Unauthorised History of NZ and The Cult.
2:10 The Pain and Kershaw Story - David Kershaw - In 1865, a young entrepreneur who had lost his savings in the Thames gold rush started selling goods from a wheelbarrow around the Martinborough region as the town was just getting started. George Pain traded the wheel barrow for a site in the town square and took on a partner, John Kershaw. The store became known as the Harrods of the Wairarapa. Pain & Kershaw is still going strong today and remains one of the oldest family owned businesses in the country. Next month it will  celebrate it's 140th anniversary. 

Martinborough landmark Pain & Kershaw.
2:20  Flight Lieutentant Taylor - Aly Cook - 70 years after Flight Lieutenant Royston Taylor and his crew aboard a Lancaster bomber on a mission to Milan, crashed in a field in France to avoid nearby village, a member of the Taylor family has been to visit his grave.
Two years ago we spoke to New Zealand recording artist, Aly Cook about the almost forgotten story of Flight Lieutentant Taylor.  His crew of eight, including airmen from England, Canada, and Australia crashed in a  field near Sassenay (Sass a neigh) on August 15th, 1943   after being attacked by a night fighter.
The people of the village built a memorial to the airmen in 1985 and waited 26 years for a New Zealander to attend annual commemorations for the airmen. Aly Cook, who was performing in the area, was the first Kiwi at the service. A few weeks ago she got an email from Taylor's great nephew. He saw our story about Aly and has just been to visit his Great Uncle's grave.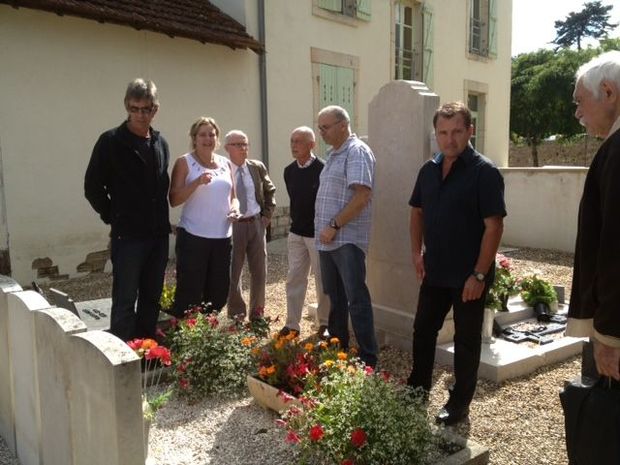 Ross and Lucille Newton visit the grave with Mayor Rety of Sassenay and officials.
2:30 Reading - Part one in our adaptation of the memoir 'Swamp Fever' written and read by Gerard Hindmarsh
- - - - - - - - - - - - - - - - - - -
MUSIC DETAILS      
Natures Best: New Zealand's Top 30 Songs of All-Time 5054952000 © 2002 Sony Music Entertainment   tk 1. Nature by Wayne Mason
2:45 Feature Album - 'From Here To Now To You' - Jack Johnson (2013)
3:10 Feature Author -  Pulitzer Prize-winning journalist Bill Dedman will be on talking about the book he's co-authored, 'Empty Mansions' - about the life of reclusive heiress Huguette Clark and the fight over her $300 million estate     
3:30 Tasman Bay's Hi-tech Marine Buoy - Alison Ballance - 24/7, regardless of the weather, TASCAM - a hi-tech marine buoy anchored off Motueka in Tasman Bay - beams back information to the Cawthron Institute. And as Alison Ballance finds out, it's not just scientists who are finding the data useful - local mussel farmers and yachties check in on the website to find out what the winds and currents are doing.          
BACKGROUND
The hourly data from Tasman Bay's TASCAM buoy can be freely accessed on the Cawthron Institute's website:
4:06 Linda Clark and Kevin Milne are on The Panel. - We'll discuss the Meridian float. A meeting in America today may well decide whether we can start using our communications devices on planes, and is there one rule for the pilots and another rule for the rest of us? What a messy desk - or a tidy one - says about you. Serious research, not pop psychology. Whether you agree with it or not is another matter. And are children children now till the age of 25?