Afternoons with Jesse Mulligan for Wednesday 25 September 2013
1:10 Best Song Ever Written - Nicolette Louverdis from Nelson nominated ' I Love My Dog' from Cat Stevens.
1:20 Link 3 - the songs:
ELEANOR RIGBY - BEATLES
CHIQUITITA - ABBA
SYLVIE - FOCUS
STRANGER ON THE SHORE - ACKER BILK
I LEFT MY HEART IN SAN FRANCISCO - TONY BENNETT
CRAZY - PATSY CLINE
WAKE ME UP - AVICII
DO IT AGAIN - BEACH BOYS
SOMETHING IN THE AIR - THUNDERCLAP NEWMAN
The Answer:  All three songs had their titles changed
2:10  Tall Ships - Tessa Duder - There's another boat race to talk about .. and this one is not about billionaires and flash technology. In fact it is quite the opposite.  The first ever International Trans Tasman tall ships race will be setting sail from Sydney to Opua in a couple of weeks. 8 magnificent ships from all over the world will make the journey under sail. They'll get here in time for the Tall Ships Festival in Auckland on Labour Weekend.
http://www.tallshipfestival2013.com/auckland.html>
2:20  Bought A Zoo - Meg Selby
They bought a zoo. Mike Rutledge and zoologist Meg Selby  are new owners of  Nelson's Natureland Zoo and a  mob of meerkats, an African porcupine, and a menagerie of native birds and farm animals. The Orana Wildlife Trust took over the care of the Tahunanui zoo in 2008, but the financial strain caused by the Canterbury earthquakes has been too much. The zoo has been around since 1966. The Nelson City Council, which owns the land, called for expressions of interest last year when Orana decided to pull out. Meg and Mike got the nod.  They will be taking over in November.
2:30 Reading - Rachael Maza reads episode eight of "Follow The Rabbit Proof Fence" by Doris Pilkington.
MUSIC DETAILS      
Original music recorded for the production by David Milroy with Alice Haines
- - - - - - - - - - - - - - - - - - - - - -  
INTERACTIVE:      
Follow the Rabbit Proof Fence by Doris (Nugi Garimara) Pilkington (University of Queensland Press, 1997) ISBN-0702232815
2:45 Feature Album - 'Fuse' - Keith Urban (2013) 
3:10 Virtual World - Dr Jules Older  
3:30 Wood's Grocery Survives - David Steemson - He's been called a "heritage hero". But it seems he's rather a reluctant one. Dinesh Mistry has spent hundreds of thousands restoring his 100-year old shop building in Mount Eden which he could easily have demolished.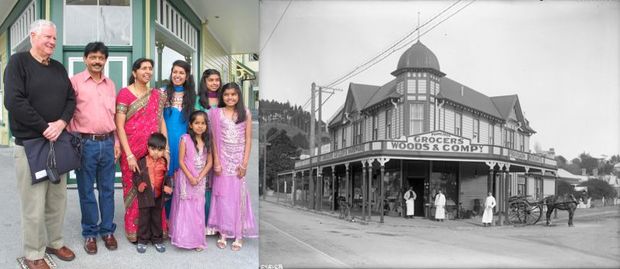 Left: Bob Kinnear, grandson of Henry Woods with Dinesh Mistry and his family.
4:06 Bernard Hickey and Mike Williams are on The Panel - both politics and the economy to discuss with them, Labour's rise in the latest poll and the effect of the new deposit loan ratios as a way of curbing the over-heated housing market in Auckland. Are private schools bad for the self-esteem of young people, what does your choice of online forum say about you, and the Americas Cup after this terrible day on the water. Matthew Sheehan will analyse that second race for us; what were Team New Zealand thing with their lee bow tack in No Man's Land that gave Oracle the lead and the race?