Afternoons with Jesse Mulligan for Wednesday 28 August 2013
1:10 Best Song Ever Written - Kate Kerr of Dunedin nominated Black by Pearl Jam.
1:20 Link 3 - The answer: Smells… these songs are all about scents.
2:10 Martin Luther King Junior - Richie Lewis - 50 years ago, August 28th 1963 .. Martin Luther King Junior gave a speech that would define his life and his legacy. The " I have a dream" speech delivered to a crowd of over 250,000  from the steps of the Lincoln Memorial,  became a cornerstone of the Civil Rights Movement in the United States. Tomorrow morning, America will celebrate the 50th anniversary of that speech, and New Zealanders from the Destiny Church will perform a haka on the very steps of the Lincoln Memorial  where Martin Luther King Junior emplored a nation to give  equal rights to black Americans.
2:20 Squabbles - Inventor Julia Banks -  It's one of the most popular board games of all time: Scrabble.
Millions of people play it. But Julia Banks of Cockle Bay in Auckland got bored with the board game, so she created her own. It's called Squabbles: The game of Very Cross words.
Squabble was chosen from hundreds of game ideas submitted to a  New Zealand puzzle and toy company  and is now in shops around the country.
2:30 Reading - Ian Johnstone reads Episode 3 of 'Dance of the Peacocks'  by James McNeish.
The young peacocks left New Zealand for the dreaming spires of Oxford.
Altogether they knew five wars, three revolutions and, in the case of one of their number, the slander of being accused of spying. Politics and personal  morality meet in this compelling account.
- - - - - - - - - - - - - - - - - - -
MUSIC DETAILS      
Tk 1. Pick Yourself Up - Lew Stone and his Orchestra.  BBC CD 824:  Pennies From Heaven II.  
BBC Enterprises/Polygram 1990.
2:45 Feature Album - 'The One That You Love' - Air Supply (1981).
3:10 Virtual World - Dr Jules Older
3:30 Auckland's New Trains - Lisa Thompson - The first of Auckland's new electric train fleet have arrived from Spain and are now being certified at Wiri Train Depot before being officially  unveiled in September.  Approximately 150 drivers need to be trained up ahead of the new fleet coming into full service by 2015 and two state-of-the-art simulators have been set up at Wiri for this very purpose.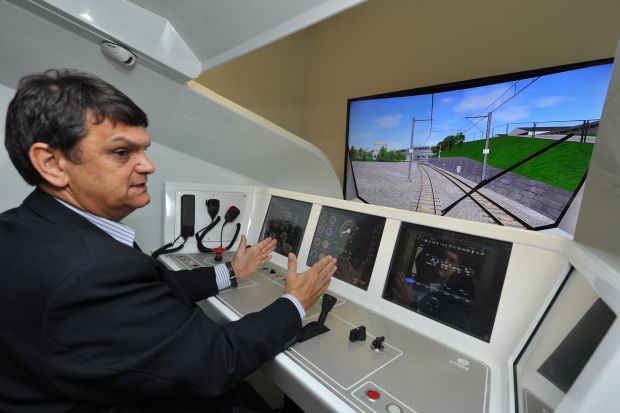 Transdev trainer William Els inside one of Auckland's new electric train simulators.
4:06 On The Panel today are Stephen Franks and Raybon Kan. We talk about Syria. Making a citizen's arrest. Miley Cyrus. 100% Pure. Are you a narcissist? Cameras in toilets.