Afternoons with Jesse Mulligan for Tuesday 7 May 2013
1:10 Best Song Ever Written
John Glass, from Taiwan via Canada, has chosen MoneyGrabber by Fitz & the Tantrums.
1:15 Critical Mass
TV review - Sarah McMullan
Books - Dr. Cushla McKinney
Hot music - Colin Morris
Web - Ele Ludemann
2:10 Free dental
Following this week's discussions about expensive dentistry, today comes the announcement of a new initiative from the University of Canterbury Students Association. USCA DENTAL is a scheme, offering subsidised dental services to students at the University of Canterbury who might otherwise be forced to forgo regular check-ups, fillings and extractions due to budgetary constraints, or general financial impecunity. Erin Jackson is the President of the Students Association and one of the brains behind the scheme.
2:20 Garden show
Summer is approaching in the Northern Hemisphere, and the flowers are in bloom. There won't be much time for Bayley Luu Tomes to stop and smell the roses  though, when he flies off to London to represent  New Zealand at the largest flower show in the world. Bailey's display of native plants and grasses will be one of 600 gardens on display at the Hampton Court Palace Flower Show next month. The young horticulture student from Tawa is the only kiwi in this years show, his garden was chosen from thousands of entries submitted from every part of the globe.
2:30 Reading - The Man With No Arms, part two
The Man With No Arms is a collection of personal essays from people living with disability. Yesterday we heard how thalidomide meant Steve Roome was born with no arms. We got a picture of the two very different environments he grew up in. Small-town rural life and the rougher city. And we learnt how he started to use alcohol as a prop. Today, a new element enters his life - employment.
MUSIC DETAILS:    
Wish you were Here - Pink Floyd, tk 4 CDP 7243 829750, Capitol
2:45 Feature Album - Time, Rod Stewart
Time is Rod Stewart's latest album, out this week.
3:10 Tune Your Engine - Peggy Orenstein
Peggy Orenstein, author and contributing editor to the New York Times Magazine, talks about the phenomenon she calls Pink Washing: the myths of breast cancer - two decades on from the introduction of the pink ribbon. She says all the well-meaning awareness campaigns have ultimately made women less conscious of the facts: obscuring the limits of screening, conflating risk with disease, compromising our decisions about health care, celebrating "cancer survivors" who may have never required treatment. And she says ultimately, it has come at the expense of those whose lives are most at risk.
3:33 Asian Report - Sons of the Soil: gumboots and tractors
Toiling the land from dawn until dusk since the 1860's, working long, back breaking hours to produce arguably the best vegetables in our country, the life and times of Chinese Market Gardeners has been captured in two publications; Sons of the Soil and Success through Adversity. The variety of vegetables readily available these days were brought to this country by Chinese from the Guandong Province, formerly known as Canton, over 150 years ago.
Many Chinese New Zealand families were involved in the market gardening practice across our country, but times are changing with the monopolisation of supermarkets. Lynda dons a pair of gumboots and chases a tractor to learn more from some of the few surviving Chinese Family Growers still around and still growing strong!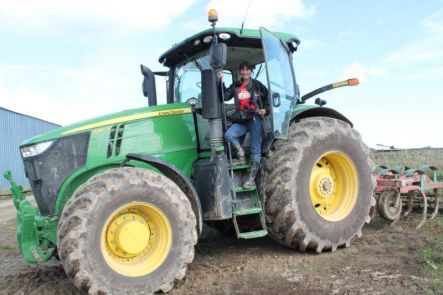 Lynda Chanwai-Earle getting into the spirit of things.
4:06 The Panel, with David Slack and Neil Miller