Afternoons with Jesse Mulligan for Thursday 27 October 2011
1:10 Best Song Ever Written
1:15 Your Place
2:10 Feature stories
2:30 Reading
2:45 Feature Album
3:12 Arts Report
3:33 Southern story - Medicine Man - Michael McCammon
Michael loves grinding away in his kitchen in Somerfield, Christchurch. Making facial scrubs, magic potions, balms and tinctures marketed as New Zealand Herbals.
He's a registered medical herbalist, iridologist and naturopath with 35 years experience, and has never doubted his love for his work since his first brew of herbs dug out of a vacant lot in Wellington as an anthropology student.
Being a medicine man means having an understanding of the deep connectedness of ALL, and therefore the responsibility we have to the planet and those around us, to be the best we can be.
But his world is about to change (again!) - the Natural Health Products Bill has had its first reading in Parliament, and the $670 million industry is about to be regulated. Not as fiercely as the EU or Australia, but a trans-Tasman alliance is still on the cards.
Links
New regulation for natural health products - 07 October 2011
Natural Health Products Bill 2011 - Digest No. 1927
First Reading - Natural Health Products Bill - Thursday 15 September 2011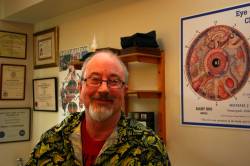 Left: Aurora the 'oompa lumpa', pouring a brew of lemons, garlic, tumeric, manuka honey and cinnamon into bottles.
Right: Michael the Medicine man in his clinic with his certificates and a scary poster of an iris according to iridology.
3:40 Our Changing World
4:06 The Panel