Afternoons with Jesse Mulligan for Friday 10 June 2011
1:10 Best Song Ever Written
Welcome Home, by Dave Dobbyn. Chosen by Barry Samson.
1:15 NZ Live - Harmony Lane
Wellington-based trio, Harmony Lane.
Audio of NZ Music Live can be found on our music web page.
2:10 English tenor Russell Watson
Russell Watson is in New Zealand to promote his first album since recovering from two life-saving operations and extensive treatment for a pituitary tumour. The Voice is back and he believes it is better and stronger than ever.
2:30 NZ Reading
Our reading today is a contemporary report of the Mt Tarawera eruption that began on 10 June 1886... 125 years ago today.
Duncan Smith reads the account, written by Mr. H.C.Thurston, teacher of the native school at Matata in 1886. Mr Thurston's counterpart at Te Wairoa school, the teacher Charles Haszard, and four Haszard children were among the 120 people known to have died in the Tarawera eruption, but Mrs Hazard and two other daughters survived.
2:40 Feature Album
Tusk by Fleetwood Mac (1979)
3:10 Fresh Fast Food - Phillip Kraal
Christchurch food personality, Phillip Kraal of The Crumpet Club who, still without a running restaurant, has come up with an inventive way of entertaining dinner guests.
His recipe for today is Cauliflower and Smoked Cheddar Chowder.
3:20 Weekend Wine with Blenheim wine consultant Belinda Jackson
Why Riesling is still very under-rated in New Zealand.
Wine Selections:
Jacobs Creek Riesling
Forrest The Doctor's Riesling
Felton Road Dry Riesling
3:26 Movie Review - Noelle McCarthy
Noelle McCarthy reviews the science fiction movie, Super 8 - directed by J. J. Abrams and produced by Steven Spielberg.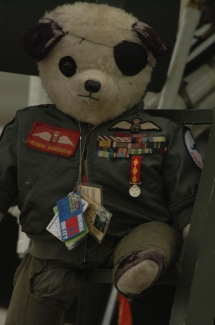 3:35 NZ Society - Our Skyhawks
Amelia Nurse talks to former air force personnel from No 75 Squadron discovers something of their rather idiosyncratic culture. She talks with John Bates, Don Simms, Ross Ewing and Iggy Wood.
SKYHAWKS: The History of the RNZAF Skyhawk by Donn Sims
Right: Henry B Fanshaw
4:06 The Panel
Jane Clifton and Jock Anderson.