Afternoons with Jesse Mulligan for Tuesday 5 April 2011
1:10 Best Song Ever Written
I'll Never Find Another You by The Seekers as chosen by Patty Roker of Nassau, Bahamas.
1:15 Critical Mass
Hot Music - Nick Atkinson
Local music is doing damage offshore with The Naked & Famous charting in the US, UK and Germany this week. The current New Zealand number one song-writer Avalanche City creates almost unprecedented buzz offshore and David Dallas joins five uber-hip acts for MTV's Iggy Artist of the week competition.
An exclusive Radio New Zealand live session with Avalanche City will be broadcast in The Music Mix.
Web - Ele Ludemann

The iPod has changed the way we listen to music. And the way we respond to it, by Nikil Saval - Slate Magazine.
Theodore Dalrymple came across How Shall I Word It? a Letter Writer for Men and Women on Domestic and Business Subjects upon which he pontificates in the New English Review.
Starting well - The American review has the 100 best first lines from novels.
TV review - Sarah McMullan
Toddlers & Tiaras
An American reality series that debuted in 2009. It follows the controversial world of child beauty pageants, looking closely at the pageant contestants and their families as the children prepare for their pageant shows. The show airs without any narration in order to avoid passing judgment. It is now into its 4th American season
Come Fly with Me
A British mockumentary comedy series created by and starring Matt Lucas and David Walliams of Little Britain fame. It's a spoof of British documentaries Airport and Airline. The series follows the activity at a fictional airport and three airlines: FlyLo (a low-cost airline), Our Lady Air (an Irish low-cost airline) and Great British Air (a major international British airline). A variety of staff and passengers are all played by Lucas or Walliams.
Books - Graham Beattie
2:10 Feature Stories
Underneath a leafy suburb, near Auckland University's Medical School and the Domain, scientists have "rediscovered" a forgotten volcano. It's located in the suburb of Grafton, less than 2kms from the centre of town.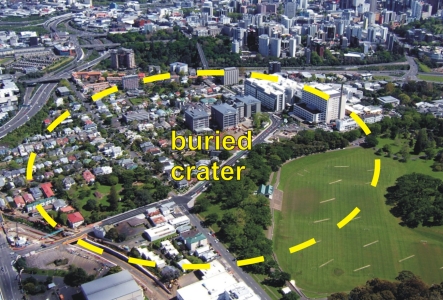 Image showing location and size of buried and 'forgotten' volcanic crater in the central Auckland suburb of Grafton. Photo: Dr Bruce Hayward, Geomarine Research.
In a quiet corner of New Plymouth, on Marsland Hill behind St Mary's Cathedral, lies the final resting place of a man whose support allowed John Keats to write some of his greatest work. Charles Brown was a friend, mentor and benefactor to John Keats. Twenty one years after Keats died, Charles Brown immigrated to New Zealand in 1841 and died a year later. This past weekend, the Mayor of New Plymouth, the British Deputy High Commissioner and one of the world's leading authorities on John Keats attended a wreath laying ceremony at Brown's grave.
2:30 Reading
Part 12 of Maurice Gee's novel Plumb, read by Barry Empson.
2:50 Feature Album
Bella Donna, the debut studio album by American singer-songwriter and Fleetwood Mac vocalist Stevie Nicks.
3:12 Tune Your Engine
Norwegian University of Life Sciences associate professor Dr Gro Amdam is leading a study into bees and their brains. She and her team have found that the brains of bees can be programmed to repair themselves.
3:33 Asian Report
The Gay-Lesbian-Bi-Transgender-Intersex communities or GLBTI for short, increased their visibility with the recent Asia Pacific 2011 Outgames in Wellington. Jason Moon talks to one of the speakers, Geeta Misra, a writer and activist for women's rights in South Asia. Geeta is from India where homosexuality is generally considered a taboo by both Indian civil society and the government and rarely discussed until now. Recently it's been given a much higher profile.
4:06 The Panel
Graham Bell and Tony Doe