Afternoons with Jesse Mulligan for Thursday 9 September 2010
1:10 Best Song Ever Written
Oh Yeah by Yello as chosen by Paula Pepperell of Riverhead.
1:15 Your Place
20KM south of Taumarunui, where the village of Owhango sits exactly on Latitude 39 South.
2:10 Feature stories
The Opera U the world's first opera in Klingon, will have its world premiere in The Hauge tonight. We talk to a Klingon language expert about the popularity of this language.
The Rugby World cup begins 365 days from today. Richard Donald and his mates will be adopting the Russian team. It's the Russian's first ever Rugby World Cup.
2:30 NZ Reading
The penultimate episode of The Shag Incident by Stephanie Johnson, read by Madeline McNamara and Jason Whyte.
Franca has told Melody about how she was raped by Howard Shag in 1985.
2:55 He Rourou
Last year the Waikato tribe of Tainui lost one of its elders trained in the ways of old, the highly respected kaumatua Dr Tui Adams.
In He Rourou today Rahui Papa talks about Dr Adams and his role as a keeper of iwi traditions and karakia.
2:50 Feature Album
The debut release of electronic group The xx - just named winners of the coveted Mercury Prize.
3:12 Arts Report
There's just one certainty at the upcoming Qantas Film Awards... sound designer Tim Prebble, who features in all three sound nominations for his work on Boy, Under the Mountain and Home by Christmas. Tim's job is building up all the sounds around the dialogue and music tracks.
Sonia Yee met the Man with the Golden Ears - Tim Prebble, on location.
3:33 Christchurch story
The historic fishing village of Mullet Bay boasts a permanent population of two.It's known to travellers as Cosy Nook. A beautiful spot known for its geology, wild coast and quaint cribs.
Sage Forest stops in for a history lesson with Stewart Reece, whose family has lived there for four generations. And finds the weather less than kind.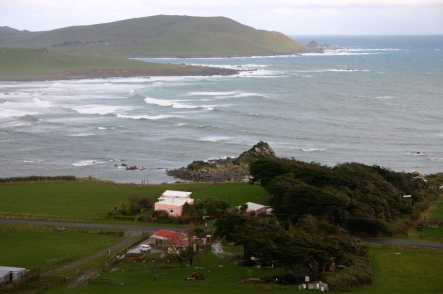 Cosy Nook.
3:35 Feature
Ocean acidification has been called many things - The Other Carbon Dioxide Problem, and even Global Warming's Evil Twin. It's the result of oceans absorbing excess carbon dioxide from the air, and it's happening very quickly at the moment.
Alison Ballance talks with marine biologists to find out what more acidic seawater might mean for marine creatures that use calcium carbonate to make shells.
3:47 Pre Panel
What are people talking about on social media sites like Facebook and Twitter.
4:06 The Panel
Gordon McLauchlan and Penny Ashton - matters to do with insurance and counselling in the aftermath of the Canterbury earthquake; organisations and volunteers performing superbly in and around Christchurch; how's the Earthquake and War Damage Commission responding?
Other issues under discussion - what Maurice Williamson said to the builders; did he insult Islam?; the man at the Defence Ministry who seems to have embellished his CV a bit; is it plagiarism to use Wikipedia without attribution?; the couple who made the taggers dance as punishment; and how much of this cyber crime that we're all victims of, seemingly, actually ends up doing harm?