Afternoons with Jesse Mulligan for Monday 23 August 2010
1:10 Best Song Ever Written
Rainbow Connection by Kermit the Frog as chosen by Tara Martin of Christchurch
1:15 8 Months To Mars - what would well-known people do on an trip to Mars?
Murray Thom
2:10 Feature stories
Katrina Cole, one of the worlds top ten sellers of Virgin Galactic spaceflights.
For more than 60 years, a secret room lay undisturbed under the old Bank of New Zealand in Arrowtown. The bank was built in 1875, during the gold rush years. It ceased being a full bank in 1916 then it was an agency until 1952 The Lakes District Museum took over the building in 1955. Historians knew there were walled in rooms under the floor of the bank. Curiosity got the better of Museum Director David Clarke in 2006, and he punched a hole through a schist stone wall and discovered a staircase, covered in cob webs, a wooden floor and a vault.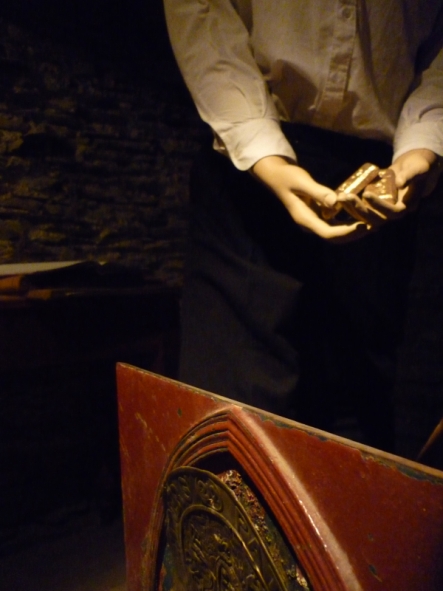 Image courtesy of the Lakes District Museum.
2:30 Reading
The award-winning New Zealand novel The Shag Incident by Stephanie Johnson, read by Nick Blake.
2:45 He Rourou
Almost 300 people attended the first ever National conference for Maori educators in the tertiary sector. Ana Tapiata talks with Dr Rangi Mataamua, the master of ceremonies for the two day hui at Pipitea marae in Wellington.
2:50 Feature Album
The Final Frontier - the new release by heavy metal veterans - Iron Maiden.
3:12 Author Slot
The Happy Economist: Happiness For The Hard-Headed by Ross Gittins.
3:47 Our Changing World
People in Papua New Guinea tell legends about islands drifting away from the mainland - and now geologists are finding that there is truth in these ancient stories.
3:47 Pre Panel
4:06 The Panel
Jane Clifton and Garry Moore