Afternoons with Jesse Mulligan for Thursday 27 May 2010
1:10 Best Song Ever Written
Actor and choreographer Sandra Rasmussen from Auckland has chosen Cabaret by Liza Minelli from the original soundtrack.
1:15 Your Place
We head to Whangamata on the beautiful Coromandel Peninsula.
2:10 Feature stories
Treasures from Napoleon Bonaparte's last years sat in a suitcase in New Zealand for generations. They include a lock of hair believed to have been taken from Napoleon's deathbed and a dairy and drawings by a man who spent time with the French Emperor before he died.
The relics belong to descendants of Denzil Ibbetson, an artist and chief commissary officer on the Atlantic island of St Helena. Napoleon was kept on the island under British detention for 6 years until his death in 1821.
Ibbetson's son Fredrick brought the items to New Zealand in 1864. They were passed down within the family over the generations until the last male descendant died several years ago. The family has decided it's time the world had a chance to see the treasures, and they will be going up for auction in June. David Markham is the president of the International Napoleonic society.
The Perano whaling station in Fisherman's Bay in the Marlborough Sounds is the site of New Zealand's last whaling sation. It's being converted into a tourist attraction. The station closed in 1964, and New Zealand banned whaling the very next day. For 53 years, the station was used as the Perano brother's base for whale processing. The site is covered with overgrown vegetation now, and only one building remains. A team of volunteers are working to clean up the site - DOC archeologist Steve Bagley is working on the project.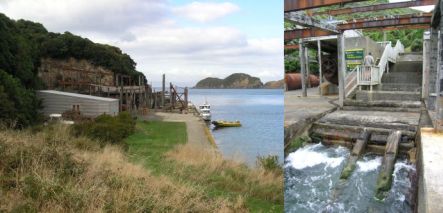 2:30 NZ Reading
Peter Elliot continues Shackleton's Boat Journey.
2:55 He Rourou
Long time educationalist Cassidy Tangaere says Maori can be their own worst enemies when it comes to the Maori language.
Cassidy tells Ana Tapiata that teachers are doing a good job in the inspiring students to learn Maori but the challenges are often wider than the education system.
2:50 Feature Album
Siamese Dream by the Smashing Pumpkins.
3:12 Arts Report
Lynn Freeman meets one of the stars of a London production of Samuel Beckett's Waiting for Godot that's winging its way to New Zealand.
3:33 Christchurch story
Sonia Yee meets a man known as The Rubberband boy.
3:47 Environment story
No-one likes getting sick, but if you've had an infection, like a wound infection, or a toenail fungus, or even a bug that makes you run to the toilet - have you ever wondered what happens to the medical specimen you have to take, so that your doctor can work out what's wrong with you?
Ruth Beran wants to find out, and is back at Aotea Pathology, a community pathology lab based right in the middle of Wellington, where she meets Mackenzie Nicol, who takes her on a tour of the microbiology department.
4:06 The Panel
Rosemary McLeod and Josie Mc Naught. Auckland zoo bans smoking - is a ban on lighting up outdoors a laudable public health initiative, or just paternalism?; Privacy vs politics; can two minute noodles make you sick; Patea Maori Club considers going back into the recording studio to remake Poi E; and why shouldn't holidays that fall on weekends be treated like the ones on Monday with extra pay for staff?