Afternoons with Jesse Mulligan for Wednesday 26 May 2010
1:10 Best Song Ever Written
Cajun Moon by Cissie Houston and Herbie Mann is the song chosen by Kaye Blaker from Kaeo. They live on a bus at Taraire Park and Water Gardens, which they're restoring.
1:15 Link 3 - music game
We play three songs; you tell us what they've got in common.
Kooks by David Bowie, Little Green by Joni Mitchell, With Arms Wide Open by Creed.
2:10 Feature story
Richard Revell will not be able to sell his carbonated milk drink at the National Agriculture Fieldays because of an exclusive contact with Coca Cola. Revell is a Te Aroha dairy farmer who spent six years in the dairy shed perfecting his drink called MO2. It's part fizzy drink, part milk and comes in lemonade and cola flavors. He wanted to launch and sell the drink at the Kiwi's Best marquee at next month's Fieldays, where the theme is innovation. But Coca Cola has a contract to supply all non-alcoholic drinks at Fieldays, and wouldn't allow an exception for Revell and his MO2 drink.
It's known as the Everest of sea kayaking... and a Father and daughter team have just accomplished it. Max and Melanie Grant spent 71 days covering more than 3 thousand kilometers to circumnavigate the South Island by Kayak. At 63, Max is the oldest New Zealander to complete the trip by kayak and Melanie is the first New Zealand woman to achieve this feat. But it wasn't the record they had in mind as they battled huge seas on the West Coast. They are raising money for child cancer: southislandcharityexpedition.blogspot.com
Ken Tustin thinks he may finally have proof there are moose alive and well and living in Fiordland. We've spoken to Ken on the program in the past about his search for moose on the loose. A few days ago he retrieved pictures from one of 13 automatic cameras he has set up near Herrick Creek and Henry Burn, in the Dusky Sound area. Among them... a stunned animal with a rather large nose. The last confirmed sighting of a Fiordland moose was in 1952.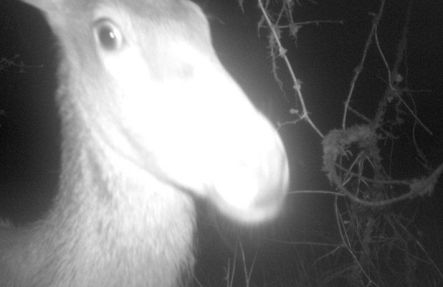 Stunned donkey or Fiordland moose?
2:30 NZ Reading
Episode 3 of Shackleton's Boat Journey, read by Peter Elliot.
2:45 He Rourou
The huge decrease in the number of Maori language preschools or kohanga reo is a major concern. So says one of the Maori language judges at the recent Wellington regional secondary school Maori speech competitions.
Cassidy Tangaere tells Ana Tapiata that there are ominous signs for the future of the Maori language.
2:50
The final LP release from British rock and roll band, the Faces.
3:12 Virtual World
1.Telecom "fully investigating structural separation"
2. Are e-books green? No open and shut case
Site of the Week: passthesource.org.nz/tag/paul-reynolds
3.33 Auckland story
Lisa Thompson talks to Bob Kerridge, whom many will know as the former executive director of the SPCA. However, animals are not his only passion. Mr Kerridge is also leading a fight to have the doors to the St James Theatre in downtown Auckland re-opened.
3:47 Science story
Its publishers describe it as 'the largest and most comprehensive zoological book ever published in New Zealand'.
And when the second of two volumes hits the book shops in 2012, we will finally have a guide to any - and every - animal without a backbone that we might find at the beach or on the coast. That's nearly 1500 creatures.
Volume one of New Zealand's Coastal Marine Invertebrates has just come out, and Alison Ballance is heading to the beach to put it through its paces. To help her out she's taking along her 10-year-old niece Claire, and Nelsonian Sue Hallas, who helped produce the book.
4:06 The Panel
Amanda Millar and David Farrar. Trouble in Korea - how serious might this get, and did the North Koreans sink the corvette? Will the Three Strikes law work? What's so funny about red-headed people and is this hug a Ginga day bigotry, actually? Do you have lucky numbers, and unlucky ones? We bring you the story of the cellphone number you wouldn't want.