Navigation for Station navigation
This series guides listeners on an historical path, tracing the evolution of jazz from its beginnings in the early 1900s, up until the 1990s and beyond. During the course of the series, we hear the story of the jazz, learn about how it developed structurally and harmonically, and find out about the social context behind everything. It is brought to you by some of New Zealand's greatest jazz thinkers and players, all current lecturers and graduates of the New Zealand School of Music.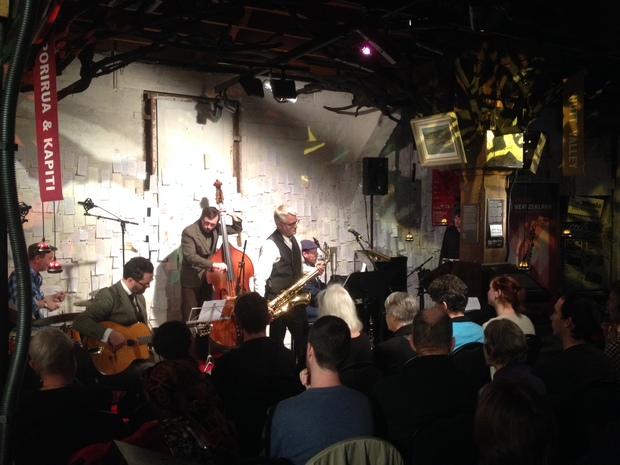 Photo RNZ/Steve Burridge
Jazz history can be divided into ten year brackets: the sessions cover the 1920s, 1930s, 1940s 1950s, 1960s, 1970s, 1980s, 1990s and beyond. Each decade is encapsulated in a programme hosted by a band leader who discusses the progression of jazz during that time, while offering musical, social and personal insights. The talk is supported by a jazz quintet who play selected pieces of music throughout the session so that listeners can hear the development for themselves.
These sessions were recorded live by RNZ at the Museum of Wellington City and Sea in August 2014 and broadcast in April 2016 on RNZ Concert. Introduced by John Pilley and Hannah Griffin and produced by Darryl Stack for RNZ. Live series producer was Andrew Laking of Pirate and Queen Productions with assistance from the Museum of Wellington City and Sea.