The Critic's Chair series ended in March 2015.
Kenneth Young reviews four recent orchestral releases on The Critic's Chair. Vasily Petrenko conducts the Royal Liverpool Philharmonic in Shostakovich's large-scale fourth symphony, and Delius in Norway gives us an introduction to the orchestral works of Frederick Delius. The Melbourne Symphony shine in their recording of Bartók, and Yannick Nezet-Séguin conducts Tchaikovsky's final symphony, the Pathétique.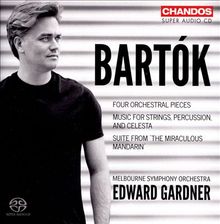 BARTÓK: Suite from The Miraculous Mandarin Op 19; Music for Strings, Percussion & Celeste; Four Orchestral Pieces Op 12
Melbourne SO/Edward Gardner
(Chandos CHSA 5130)

Conductor Edward Gardner leads the Melbourne Symphony Orchestra impeccably through an extremely energetic and accurate performance of one of Bartok's true masterpieces: The Miraculous Mandarin. It's one of the most terrifying pieces of music I can think of. The recording is impressive; cobbled together from four live performances in Hamer Hall at the Melbourne Arts Centre. I've rarely heard better playing from this orchestra.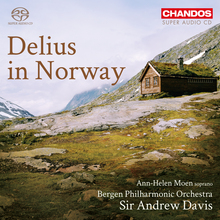 Delius in Norway
Ann-Helen Moen (soprano), Bergen Philharmonic Orch/Andrew Davis
(Chandos CHSA 5131)

Delius polarises opinion like very few other composers, but I'm a firm and committed member of his fan club. He had a life-long love affair with Norway, and this disc celebrates that relationship. There are works from his apprentice years, and works from later in his career, inspired by the country. The recording itself is of excellent quality, and I also enjoyed the fine voice of Norwegian soprano Ann-Helen Moen.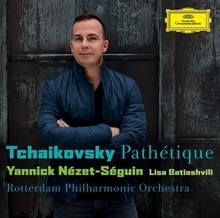 TCHAIKOVSKY: Symphony No 6 in B minor Op 74, Pathétique; Romances Op 6 & Op 73 for Violin & Piano
Lisa Batiashvili (violin), Rotterdam Philharmonic Orch/Yannick Nézet-Séguin (violin)
(DG 479 0835)

Tchaiovsky's sixth and final symphony was the first work that young French-Canadian conductor Yannick Nézet-Séguin ever heard live, and he conducts it on this disc with the Rotterdam Philharmonic. Textural clarity and balance of sections isn't always achieved on this recording however. Of real interest to the avid Tchaikovsky enthusiast will be the Romance arrangements for violin and piano – Lisa Batiashvili is accompanied by the conductor himself at the piano.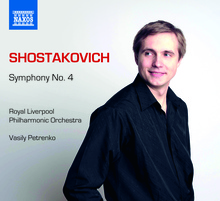 SHOSTAKOVICH: Symphony No 4 in C minor Op 43
Royal Liverpool Philharmonic Orch/Vasily Petrenko
(Naxos 8.573188)

Shostakovich's fourth symphony was written at a time of great unrest in Russia, and despite the rehearsal for the premiere starting in 1936, the work wasn't performed until 1961. For me it's the most monumental score Shostakovich ever penned, with an epic scale that juxtaposes intense emotion with parody and irony. This disc is part of the series of symphonies being released by the Royal Liverpool Philharmonic under Vasily Pentrenko, and they're the real deal.