The Critic's Chair series ended in March 2015.
Robert Johnson takes us on a jaunt through the Hungarian countryside in this programme, with the Dante Quartet's new recording of the Kodály String Quartets. He also features cellist Steven Isserlis playing the works of Bohuslav Martinů, and highly recommends Volodos Plays Mompou.  Also in the programme is Jean-Efflam Bavouzet's new release of the five formidable Prokofiev piano concertos; a recording that ticks all the boxes.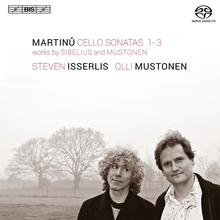 MARTINU: Cello Sonatas Nos 1-3; MUSTONEN: Cello Sonata; SIBELIUS: Malinconia
Steven Isserlis (cello), Olli Mustonen (piano)
(BIS SACD 2042)

An excellent recital, particularly for the three sonatas by Martinů at its heart. This is repertoire that Isserlis, in particular, knows well; his own sleeve note for this recording is informed and penetrating. Mustonen's rhythmic precision drives the music along, and Steven Isserlis himself has obviously given much thought to these works since his earlier recording for Hyperion, marvellous though that was.


KODÁLY: String Quartets Nos.1 & 2; Intermezzo; Gavotte
Dante Quartet
(Hyperion CDA 67999)

Amid the Debussyan texture of Kodály's First String Quartet you can also hear the inflections of Hungarian folk song. The Second Quartet is a highly distinctive work that deserves to be heard far more often. The Dante Quartet play with energy, superb technique and musicianship. Above all, they bring an obvious commitment to this repertoire that should bring it to the attention of other ensembles.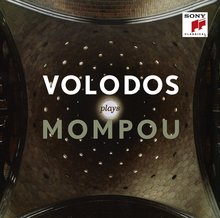 Volodos plays Mompou
Arcadi Volodos (piano)
(Sony Classical 88765433262)

This is an outstanding and unexpected album from Volodos. The music of Mompou is confined to intimate piano miniatures and songs, with a couple of works for chorus. But if his range is restricted, the results are nevertheless compellingly individual and as haunting as many a work by better-known composers. His piano music looks relatively simple on the page, but it's evident from the personal note with this album by Volodos that he has a sincere and intimate relationship with this ethereal music.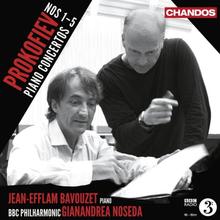 PROKFIEV: Piano Concertos Nos1 to 5
Jean-Efflam Bavouzet (piano), BBC Philharmonic/Gianandrea Noseda
(Chandos CHAN 10802)

In Prokofiev's piano concertos, I generally stick to particular recordings of individual concertos rather than complete sets. For the first time, this is an integral set that, for my taste, ticks all the boxes. The popular Third Concerto here comes remarkably close to my benchmark, Martha Argerich. Of the complete surveys of Prokofiev's concertos, this now takes pride of place. Soloist, orchestra, conductor and recording engineers have all excelled, and the result is something quite special.