The Critic's Chair series ended in March 2015.
This week on The Critic's Chair, Robert Johnson reviews pianist Angela Hewitt's latest offering, Fauré Piano Music, as well as the premiere recording of Finnish composer-conductor Esa-Pekka Salonen's Violin Concerto. You'll also get a taste of Shostakovich's Leningrad Symphony conducted by Vasily Petrenko, and the Stenhammar Quartet performing music by their namesake, Swedish composer Wilhelm Stenhammar.
STENHAMMAR: String Quartets Vol. 1 – String Quartet No 4 in A minor Op 25; Elegi & Intermezzo; String Quartet No 3 in F Op 18
(BIS SACD 1659)

STENAHMMAR: String Quartets Vol. 2 – String Quartet No 5 in C Op 29; String Quartet in F minor; String Quartet No 6 in D minor Op 35
(BIS SACD 2009)

Stenhammar's set of six quartets occupies a particularly important place in his life's work, and they deserve to be much better known than they are outside of Sweden itself. Although there have been other recordings of these quartets, none matches the degree of commitment, virtuosity and musicianship shown by the Stenhammar Quartet. Highly recommended to anyone who's interested in fine string quartet writing or superb quartet performance.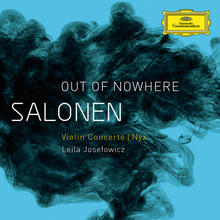 SALONEN: Violin Concerto; Nyx
Leila Josefowicz (vln), Finnish Radio SO / Esa-Pekka Salonen
(DG 479 0628)

Though he's become better known as a conductor during his two decades as music director of the Los Angeles Philharmonic, Esa-Pekka Salonen has remained committed to composing. Written for Leila Josefowicz, his Grawemeyer Award winning Violin Concerto is a stunning work that deserves to be taken up by violinists throughout the world. It's entirely modern in its language, yet somehow wonderfully approachable and engaging. There's an exhilarating Stravinskian energy in the third movement, "Pulse II" – it must be incredibly exciting to watch as well as hear in live performance.


Fauré Piano Music
Angela Hewitt (pno)
(Hyperion CDA 67875)

Gabriel Fauré's music for solo piano is one of the most impressive bodies of work for the instrument by any French composer. Fauré's two lengthiest works for solo piano – Theme and Variations, and the Ballade – form twin pillars at either end of a very enjoyable recital of his piano music from the Canadian pianist Angela Hewitt. Fauré's music seems particularly well suited to Hewitt's art, with its delicate counterpoint and subtle harmonic shifts. You can hear in her playing a physical enjoyment of the fluid way that the composer passes his melodies from one hand to the other.


SHOSTAKOVICH: Symphony No 7 Op 60, Leningrad
Royal Liverpool Phil / Vasily Petrenko
(Naxos 8.573057)

There are few recorded performances of the Leningrad Symphony to match this one. The richly Russian sound Petrenko extracts from the Liverpool strings is particularly impressive, but all sections are on their mettle, and I don't think I've ever heard this orchestra sound better. The build throughout the first movement is carefully controlled by Petrenko so that when he reaches the climax it has maximum effect. But it's the care with which some of the quieter, less thickly scored passages are shaped and articulated that makes the huge climaxes of the work all the more shocking and effective. The engineering serves the performance well, allowing the fine detail to emerge while expanding to encompass the most massive climaxes.