The Critic's Chair series ended in March 2015.
This week on The Critic's Chair, Peter Walls follows the great 18th-century mezzo-soprano Faustina Bordoni's travels around Naples, and reviews Bach's violin concerti performed by the Freiburg Baroque Orchestra. He also explores the much-neglected Seven Last Words of Christ by Pergolesi, and the sacred choral music of Marc-Antoine Charpentier.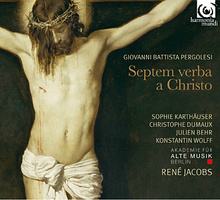 PERGOLESI: Septem Verba a Christo
Sophie Karthäuser (sop), Christophe Dumaux (countertenor), Julien Behr (ten), Konstantin Wolff (bass), Akademie für Alte Musik Berlin / René Jacobs
(Harmonia Mundi HMC 90 2155)

A beautifully stylish performances of a fascinating and much-neglected work by Pergolesi. René Jacobs makes a persuasive case for Pergolesi's "Seven Last Words of Christ" to sit alongside the much more famous treatment by Haydn.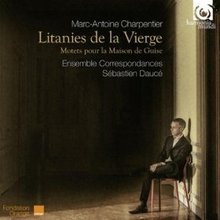 CHARPENTIER : Litanies de la Vierge: Motets pour la Maison de Guise
Ensemble Correspondances / Sébastien Daucé
(Harmonia Mundi HMC 90 2169)

These are polished performances of sacred music written by Marc-Antoine Charpentier for the Duchesse de Guise during the reign of Louis XIV. Those who enjoy the slightly rarified world of the late 17th century French baroque will welcome this new disc.





I Viaggi di Faustina
Roberta Invernizzi (sop), I Turchini / Antonio Florio
(Glossa GCD 922 606)

Roberta Invernizzi explores the virtuoso arias written for the great 18th century mezzo soprano, Faustina Bordoni-Hasse. These are dazzling performances. A concentration on Faustina's appearances in Naples means that the arias written for her by Handel and Hasse are excluded – but there is still plenty on this disc to reward coloratura connoisseurs.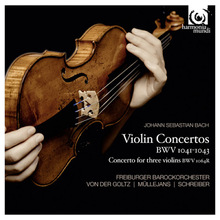 BACH: Violin Concertos
Petra Müllejans, Gottfried von der Goltz, Anne Katharina Schreiber (vlns), Freiburg Baroque Orch
(Harmonia Mundi HMC 90 2145)

These are excellent performances of the E major and A minor Bach violin concertos together with the D minor Double Concerto and the reconstructed Concerto for Three Violins. The Freiburg Baroque Orchestra are at their stylish best.