The Critic's Chair series ended in March 2015.
The Critic's Chair this week explores a new recording of Dvorák's Symphony No. 9 'From the New World', which Robert Johnson labels "second to none".  You'll also hear Portuguese pianist Maria João Pires and her latest disc of Schubert sonatas, and a potpourri of flute works by the phenomenal Sharon Bezaly. And if you love Sibelius, you might also love the Helsinki Phil's latest recording of Madetoja's 2nd Symphony.
MADETOJA: Symphony No 2; Kullervo; Symphonic Suite Op 4, Elegy for Strings
Helsinki Phil/John Storgårds
(ODE 1212)

With Madetoja, you get the sense of a composer who knows exactly where he's heading and how he's going to get there. This recording sets a new standard for this repertoire, both in terms of orchestral playing and the quality of the engineering. I highly recommend this outstanding CD, particularly to anyone who already enjoys Sibelius and wants to find related music to explore.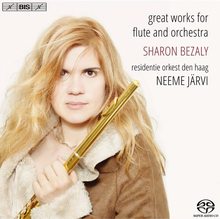 Great Works for Flute & Orchestra
Sharon Bezaly (fl), Hague Residentie Orch/Neeme Järvi
(BIS SACD 1679)

Israeli-born Sharon Bezaly has been one of the world's top flutists throughout the past sixteen years. Her latest CD has a generic title – "Great Works for Flute and Orchestra" – and the repertoire is rather a mixed bag. The most substantial and individual work on the disc is Carl Nielsen's Flute Concerto, though Reinecke's Concerto is attractive enough, giving plenty of opportunities for the soloist to display her abilities. Everything is performed brilliantly by all concerned, and engineering is up to the usual high standards of the BIS label.


SCHUBERT: Piano Sonatas No 16 & 21
Maria João Pires (pno)
(DG 477 8107)

In Schubert's Sonata in A minor nothing is exaggerated, but this is by no means playing devoid of personality. The Sonata in B flat has always seemed to me to have one foot in the world we all inhabit, the other in a realm somehow beyond that of mere human existence. Pires is extraordinary. The way she plays the opening of the development section of this sonata is utter magic, leading to the most sublime interpretation of this section of the work that I can recall hearing. The sense of quiet meditation she projects in the second movement – Andante sostenuto – is exquisite. Strongly recommended.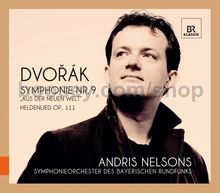 DVOŘÁK: Symphony No 9 in E minor Op 95, From the New World; The Hero's Song Op 111
Barvarian Radio SO/Andris Nelsons
(BR Klassik 900116)

Dvořák's "New World" Symphony has been recorded so many times that it takes something quite special for a new one to stand out from the pack. At every turn Andris Nelsons brings fresh life to this often rather jaded classic, aided by one of the greatest orchestras in Europe and a recording that's second to none. This stunning performance of Dvořák's most popular symphony is now, without any doubt, the one to have.