The Critic's Chair series ended in March 2015.
Robert Johnson features the cello with a new recording of Barber's Cello Concerto and Cello Sonata by cellist Christian Poltéra, and New Zealand cellist Santiago Cañón Valencia makes his debut with challenging solo works including the fiendishly difficult Kodály Sonata.  Also, the latest from Russian pianist Nikolai Lugansky playing Rachmaninov, and violinist Baiba Skide plays Stravinsky and Martin.
Robert Johnson reviews new releases.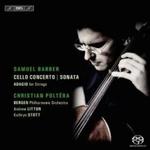 Barber: Cello Concerto; Cello Sonata; Adagio for Strings
Christian Poltéra (cello), Kathryn Stott (pno), Bergen Phil/Andrew Litton
(BIS-1827)

Barber's Cello Concerto is a more caustic work than his Violin Concerto, perhaps reflecting the uncertainty of the 1940s, when it was composed. You really couldn't do better than Christian Poltéra's technically immaculate, alternately fiery and heartbreakingly lyrical performance. Andrew Litton's interpretation of the Adagio for Strings is perfectly paced.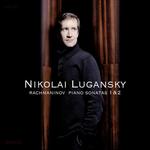 Rachmaninov: Piano Sonatas Nos.1 & 2 (original version)
Nikolai Lugansky (pno)
(Ambroisie AM 208)

Nikolai Lugansky gives an outstanding rendition of Rachmaninov's Faust-inspired First Piano Sonata, written in a demanding style requiring strength and stamina as well as faultless technique. His performance of the Second Sonata is at once the most hot-blooded and penetrating interpretation I've heard since that of Horowitz himself. He manages to capture the intense longing at the heart of this music with an almost improvisatory freedom, while still maintaining an unwavering grip on the overall form.


Solo
Kodály: Sonata for cello solo; Cassadó: Suite for cello solo; Ginastera: Puneña No.2; Ligeti: Sonata
Santiago Cañón Valencia (cello)
(Atoll ACD 884)

An impressive debut recital, recorded at the age of 16. Everything on this disc is highly approachable, and this young cellist has all the technique and musicianship to do them justice. The final work on the programme is Kodály's Sonata for solo cello, regarded as the most important work for solo cello since Bach's Suites. Valencia's performance is extraordinarily impressive by any standard.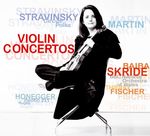 Stravinsky & Martin: Violin Concertos; Honegger: Pacific 231; Rugby; Stravinsky: Circus Polka
Baiba Skride (vln), BBC National Orch of Wales/Thierry Fischer
(Orfeo C 849 121 A)

Baiba Skride gives an entrancing performance of Stravinsky's Violin Concerto. Her tone in the two Arias is wonderfully warm and rich, but she also has the measure of the jaunty quality of the outer movements. Conductor Thierry Fischer has done wonders with the orchestra, balancing Stravinsky's intricate textures with consummate skill. Martin's concerto is steeped in the atmosphere of Shakespeare's The Tempest, with luminous orchestral textures supporting a violin cantilena that seems by turns enchanted and incantatory. Skride's recording is the best since Wolfgang Schneiderhan's some forty years ago.