The Critic's Chair series ended in March 2015.
Dianne James presents The Critic's Chair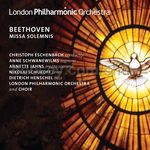 BEETHOVEN: Missa Solemnis
Anne Schwanewilms (sop), Annette Jahns (mezzo), Nikolai Schukoff (ten), Dietrich Henschel (bass), London Philh Orch & Choir/Christoph Eschenbach.
(LPO 0061)

Overall I found much to admire and enjoy in this new recording. I was pleasantly surprised by Eschenbach's mostly upbeat speeds, and it's to Eschenbach's and the recording engineers' credit that the long stretches of complex fugal writing retain a substantial degree of clarity in both text and texture. Whilst it doesn't supplant Gardiner's 1990 account with the Monteverdi Choir & The English Baroque Soloists from top place in my reckoning, it's certainly well worth a listen.


FAURÉ: Piano Quintets
Quatuor Ebène, Eric le Sage (pno)
(ALPHA 602)

This is a most welcome coupling of two of Fauré's greatest chamber works. Le Sage and the Ebène Quartet are splendid advocates for this deeply felt, spiritual music. The serenely beautiful slow movement from Fauré's second Piano Quintet is lovingly played by these musicians and their performance of this movement alone makes this new recording worth its weight in gold.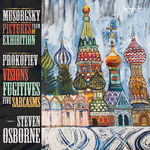 MUSORGSKY/PROKOFIEV: Piano Works
Steven Osborne. HYPERION
(CDA 67896)

A new release by British pianist Steven Osborne had me totally enthralled from the moment I first sat down and began listening. His magisterial account of Musorgsky's Pictures from an Exhibition exposes the individual characteristics of each of the separate movements that make up this varied sequence of pieces. Pictures is brilliantly offset by two smaller collections of Prokofiev piano works. The five Sarcasms are given bitingly incisive and energised performances, and in the Visions fugitives Osborne allows his imagination the freedom to roam uninhibited. This is a truly exciting CD and a must for lovers of the piano and its enormous literature.


Virgins, Vixens and Viragos
Susan Graham (mezzo), Malcolm Martineau (pno).
(ONYX 4105)

This fabulous recital is an eclectic collection of songs representing the world-view of a wide range of very different feminine characters. The music spans four centuries, from Purcell to Hugo Wolf and Poulenc to Stephen Sondheim and Joseph Horovitz. One of Susan Graham's strengths is the way she's able to switch so effortlessly between such different characters and such contrasting musical styles. In this she's ably supported by her pianist, Malcolm Martineau, whose contribution to this disc is outstanding.