The Critic's Chair series ended in March 2015.
This week Erica Challis presents The Critic's Chair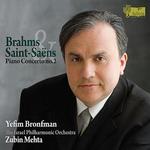 BRAHMS: Piano Concerto No 2; Saint-Saens: Piano Concerto No 2
Yefim Bronfman (pno), Israel Phil/Zubin Mehta
(Helicon 02-9644)

Yefim Bronfman playing Brahms sounds like a great project, but it's the Saint-Saëns featured after that on the disc that gave me more enjoyment. Bronfman gives Saint-Saëns' second Piano Concerto a compelling reading that draws you into this lesser-known work and Bronfman's unique sound is well captured. By contrast, Bronfman's fine Brahms playing is almost upstaged by audience noise at times!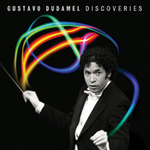 Discoveries
Music by Beethoven, Tchaikovsky, Bruckner, Shostakovich, Saint-Saëns, Mahler, Mendelssohn, Márquez, Revueltas, Stravinsky, Bernstein
Simón Bolivar SO of Venezuela, Gothenburg SO, Berlin Phil, Vienna Phil/Gustavo Dudamel
(DG 479 0069)

Discoveries is a compilation disc with Venezuelan conductor Gustavo Dudamel. Deustche Gramophon has put together a selection of his most outstanding performances drawn from shorter works and symphonic movements. It's a well-chosen selection that takes you on a satisfying musical and emotional journey through a variety of music from Mahler and Mendelssohn to Stravinsky and Shostakovich, not to mention some very beguiling works by Latin-American composers such as Marquez and Revueltas.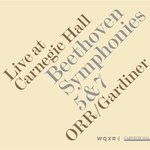 BEETHOVEN: Symphonies, No 7 in A, Op 92; No 5 in C minor, Op 67
Orchestre Révolutionnaire et Romantique/John Eliot Gardiner
(Soli Deo Gloria SDG 717)

The Orchestre Révolutionnaire et Romantique was recently recorded live at Carnegie Hall playing Beethoven's Fifth and Seventh symphonies. John Eliot Gardiner leads performances that are intense and nervy and strongly shaped, though a little less driven than his recordings from the 1990s - and that's a good thing.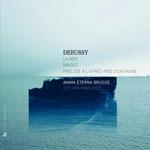 DEBUSSY: La Mer; Images; Prelude a l'apres-midi d'un faune
Anima Eterna Brugge/Jos van Immerseel
(Zig-Zag Territoires ZZT 313)

Also playing period instruments, though from a time closer to ours, Anima Eterna Brugge present a disc of Debussy's orchestral works. The smaller bore winds and older style strings and percussion lend a beautiful transparency and clarity to the music. It's great to hear some new details in these works of highly sensitive orchestration.