The Critic's Chair series ended in March 2015.
Julie Sperring explores collaborations from around the world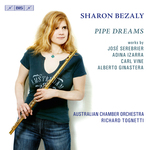 Pipe Dreams
SEREBRIER: Flute Concerto with Tango; IZARRA: Pitangus Sulphuratus; VINE: Pipe Dreams; GINASTERA: Impresiones de la Puna
Sharon Bezaly (fl), Australian CO/Richard Tognetti
(BIS CD 1789)

Pipe Dreams is a colourful collection of music for flute and orchestra, played with flair and imagination by Sharon Bezaly.  I enjoyed the fact that the pieces don't only rely on virtuosic brilliance to impress, but also exploit the flute's sensuous, beguiling qualities to lead the listener through the composers' imaginings.


J HARVEY: Bird concerto with pianosong; Ricercare una melodia for oboe; Other Presences; Recercare una melodia for cello
Gareth Hulse (ob), Paul Archibald (tpt), Tim Gill (cello), London Sinfonietta / David Atherton
(NMC D 177)

It's quite possible that the song of the Great Kiskadee joins those of the Indigo Bunting, the Orchard Oriole and the Golden Crowned Sparrow in this next work. These are just some of the 40 Californian birds whose songs and cries sparked the ignition of Bird Concerto with Piano Song by composer Jonathan Harvey. For me the Bird Concerto is by far the most interesting work because of its variety and quirkiness. However there are some interesting moments in the other works which are all for solo instrument playing against recordings of themselves.


Off the Map
FRANK: Ritmos Anchinos; LAM: Empty Mountain, Spirit Rain; ZIPORYN: Sulvasutra; GOLIJOV: Air to Air
Silk Road Ensemble
(World Village 468 095)

This recording marked their 10th anniversary and features four new commissions that extend the ensemble's reach across the ocean to the Americas. For me this album represents the vibrant eclecticism that we now experience through the global village we inhabit. I found the intent of the project and the resulting music to be inspiring, moving and totally enjoyable.


IVES: Violin Sonatas Nos 1-4
Hilary Hahn (vln), Valentina Listisa (pno)
(DG 477 9435)

Their skill and musicianship is incredible, but more than that, I felt that these two were deeply involved and committed to this music.
There's much to gain from actively listening to these sonatas, and I wholeheartedly recommend the CD to those wanting to experience the enigmatic Charles Ives on a more intimate scale.