The Critic's Chair series ended in March 2015.
Dianne James is in The Critic's Chair.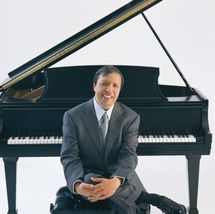 This week The Critic's Chair is devoted exclusively to the artistry of pianist Murray Perahia. One of the most cherished and sought-after of pianists, Perahia's playing is renowned above all for its deeply expressive and poetic qualities. Dianne James leads us through seminal recordings of works in Perahia's core repertoire: Bach, Mozart, Chopin and Schumann. They're some of the most recorded works in the classical music world. But Dianne highlights the nuances and authenticity idiomatic of Perahia's playing that makes his recordings stand well and truly above the rest.
Discs discussed in the programme:
SCHUMANN: Fantasy Pieces, Op.12 and Davidsbündlertänze, Op.6
(SONY SK 92616)
MOZART: The Complete Piano Concertos
Murray Perahia (piano/director), English Chamber Orchestra
(SONY SK 82876872302)
BEETHOVEN: Piano Concertos No 3 in C minor; No.4 in G, Op.58
Murray Perahia (pno), Concertgebouw Orchestra/Bernard Haitink
(CBS Masterworks MK 39814)
HANDEL/SCARLATTI
 (SONY SK 62785)
BACH: Goldberg Variations
 (SONY SK 89243)
CHOPIN: Studies, Op.10 and Op.25
 (SONY SK 61885)