The Critic's Chair series ended in March 2015.
Robert Johnson returns to The Critic's Chair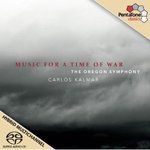 Music for a Time of War
IVES: The Unanswered Question; ADAMS: The Wound-Dresser; BRITTEN: Sinfonia da Requiem; VAUGHAN WILLIAMS: Symphony No.4
Sanford Sylvan (bar), The Oregon Symphony/Carlos Kalmar.
(Pentatone PTC 5186 393)

Not all of the music on this disc has a direct connection with war, and it's a testament to Carlos Kalmar's ingenious programming instincts that it makes such a satisfying experience. He directs one of the most harrowing accounts of Britten's Sinfonia da Requiem that I've ever heard, and overall the strength and commitment of these performances is outstanding.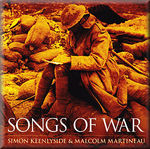 Songs of War
BUTTERWORTH: A Shropshire Lad songs by VAUGHAN WILLIAMS, SOMERVELL, IRELAND, etc.
Simon Keenlyside (bar), Malcolm Martineau (pno).
(Sony Music 88697944242)

The songs chosen for this beautifully presented and intelligently sung recital are not, for the most part, patriotic or martial in nature. At the heart of the recital are George Butterworth's eleven settings of poems by A. E. Housman. Keenlyside's artistry is evident in the quality of his voice, the clarity of his diction, and in his eloquent presentation of the poetry.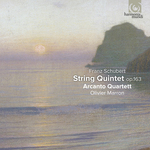 SCHUBERT: String Quintet in C major
Arcanto Quartet, Olivier Marron (cello)
(Harmonia Mundi HMC 902106)

There is never so much as a moment you could describe as "routine" in this performance. Every appearance of a familiar theme is subtly differentiated from every other in what is undoubtedly one of the finest performances of this work ever committed to disc. The glowing intensity of this performance is particularly in evidence in the Adagio, a movement that epitomises the oasis of calm that many people look for in classical music.


Prokofiev: Violin Concertos Nos.1 & 2; Sonata for Solo Violin
Arabella Steinbacher (vln), Russian National Orchestra/Vasily Petrenko
(Pentatone PTC 5186 395)

Arabella Steinbacher's performances throughout this disc are among the most expressive and subtle that I've heard in this music, and she's perfectly matched by the delicacy of the orchestral response. Contrary to Prokofiev's reputation at the time, the First Violin Concerto's most immediate characteristic is an outpouring of sustained lyricism, and among the most remarkable characteristics of Steinbacher's playing is her ability to sustain Prokofiev's sinuous melodic lines.