The Critic's Chair series ended in March 2015.
Murray Khouri compares great recordings of Stravinsky's Rite of Spring
Murray Khouri compares great recordings of Stravinsky's Rite of Spring on The Critic's Chair. Murray's Choice: from a generally excellent crop of recordings Valery Gergiev and Simon Rattle vie for top place. Both get to the core of this masterpiece giving performances that you'll want to hear time and time again. Best Budget Buy is Mackerras with the London Phil. It's finely played and recorded with a few novelties as fill-ups. Collector's Choice has to be Stravinsky conducting the Columbia Symphony; a bench mark recording that should have a place in any collection.
Murray Khouri: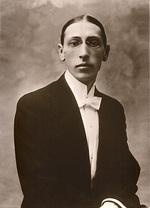 Incredible though it may seem, 2013 marks the hundredth anniversary of the first performance of Stravinsky's ballet the Rite of Spring.  It was premiered in Paris by the Russian Ballet at the Theatre des Champs-Elysees. The ensuing riot that attended this performance is well-known as is the dancers' inability to cope with the metric difficulties of the score. Pierre Monteux was the conductor who stoically kept the orchestra on the rails despite the mayhem with which he was surrounded.

Stravinsky had completed the score in the little town of Clarens, Switzerland, in 1913 and the first performance followed in May of the same year. The idea for the Rite of Spring came to Stravinsky while he was finishing the final pages of the  Firebird. In the Chronicle of his Life, he tells that in his imagination he saw a solemn pagan rite with wise elders seated in a circle watching a young girl dance herself to death. They were sacrificing her to propitiate the god of spring.


Stravinsky had no love for star conductors using the Rite as an orchestral show-piece and was a strident critic of much that he heard. I was labouring under the impression that once the rhythmic and intonation difficulties were sorted out, the work would play itself. Not so it seems. Most of the performances you'll hear on this programme are highly individual, different because of the individual personalities of the conductors and orchestras. Boulez, who I played under, masked his feelings beneath a Buddha-like exterior. At the opposite pole, Gergiev was able to release all the savagery and primitive barbarism that lay behind the notes of the score. That was the turning point for me.

Murray's Choice: from a generally excellent crop of recordings Valery Gergiev and Simon Rattle vie for top place. Both get to the core of this masterpiece giving performances that you'll want to hear time and time again.

Best Budget Buy is Mackerras with the London Phil. It's finely played and recorded with a few novelties as fill-ups.

Collector's Choice has to be Stravinsky conducting the Columbia Symphony; a bench mark recording that should have a place in any collection.

Music Details for STRAVINSKY: The Rite of Spring

City of Birmingham Symphony Orchestra/Simon Rattle
(EMI CDC 7 49636)

Columbia Symphony Orchestra/Igor Stravinsky
(CBS MK 42433)

Philharmonia Orchestra/Igor Markevitch
(EMI 7 626472)

Minneapolis Symphony Orchestra/Antal Dorati
(Mercury 434 331)

Berlin Philharmonic/Herbert von Karajan
(DG 463 613)

Israel Symphony Orchestra/Leonard Bernstein
(DG 410 508)

Cleveland Orchestra/Pierre Boulez
(DG 471 741)

Simon Bolivar Youth Orchestra of Venezuela/Gustavo Dudamel
(DG 477 8775)

Los Angeles Philharmonic/Esa-Pekka Salonen
(DG 477 6198)

Kirov Orchestra/Valery Gergiev
(Philips 468 035)

Orchestra of Paris/Daniel Barenboim
(Erato ECD 75360)

London Philharmonic Orchestra/Charles Mackerras
(EMI Eminence EMX 9517)

City of Birmingham Symphony Orchestra/Simon Rattle
(EMI CDC 49636)

Kirov Orchestra/Valery Gergiev
(Philips 468 035)