Sound Lounge for Friday 31 July 2015
7:00
DAVID HAMILTON: Karanga
PeRichard Nunns (putatara), Graduate Choir/Terence Maskell
Atoll ACD 407
Upcoming concert including a piece by David Hamilton
PHILIP NORMAN: Inception to Infinity
Matthew Marshall (gtr), Orchestra Wellington/Kenneth Young
(Private recording)
Upcoming concert including a piece by Philip Norman
OLIVIA WEBB: Scale (excerpt)
Olivia Webb (voice, sequencing)
(Private recording)
Condensed version of a live collaborative video between Noel Meek (sound) and Olivia Webb (video).  
7:30 Relevant Tones
Originally a German musical creation, Wandelweiser is a kind of extreme minimalism that is fast becoming popular with composers around the world. Seth Boustead talks with two of its creators, Jürg Frey and Eva-Maria Houben, about the phenomenal growth of this movement. (WFMT)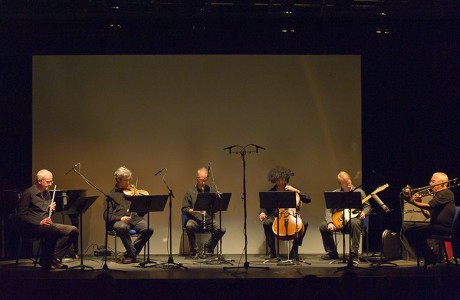 JÜRG FREY: More or Less Normal; 60 Pieces of Sound (excerpt) - a.pe.ri.od.ic (WFMT)
EVA-MARIA HOUBEN: Von da, nach da (excerpt) - Evz-Maria Houben (org), Sebastian Jeuck (sax), Rommel Ayoub (vln) (EWR 0705)
JÜRG FREY: Fragile Balance - a.pe.ri.od.ic (WFMT)
EVA-MARIA HOUBEN: Go and Stop (excerpt) - R. Andrew Lee (pno)
Balkan band Fanfare Ciocărlia have got a lot of brass and the talent to back it up. The energetic 24-piece band bring their modern twist to ancient Balkan gypsy traditions. (Recorded at Brooklands Park, New Plymouth by Radio New Zealand)
Radio New Zealand WOMAD 2015 collection
9:30
GROUPA: Marsch pa loftet
Groupa
Footprint FRCD 074
KANNO: The Remains of the Light 3, Angel's Ladder
Noriko Ogawa (pno)
BIS SACD 2075
10:00 Soundtracks from the NZIFF
Ryan Smith looks at music from some of the films showing at this year's New Zealand International Film Festival including 808, Victoria, Seymour: An Introduction and Philip Dadson: Sonics From Scratch.
Philip Dadson, founder of the ensemble From Scratch which is the subject of the documentary film Philip Dadson: Sonics From Scratch. Image Courtesy of NZIFF.
11:00 New Music Dreams
Surrounded by Sea (album) - Andy Sheppard Quartet
SHEPPARD/BENITA: Tipping Point; ELVIS COSTELLO: I Want to Vanish; TRAD arr Sheppard, Aarset, Benita, Rochford: Aoidh, Na Dean Cadal Idir (Part1); SHEPPARD: Origin of Species; ROCHFORD: They Aren't Perfect and Neither Am I; SHEPPARD: Medication; TRAD arr Sheppard, Aarset, Benita, Rochford: Aoidh, Na Dean Cadal Idir (Part 2); SHEPPARD: The Impossibility of Silence; I See Your Eyes Before Me, BENITA: A Letter; TRAD arr Sheppard, Aarset, Benita, Rochford: Aoidh, Na Dean Cadal Idir (Part 3); SHEPPARD: Looking For Ornette
Andy Sheppard Quartet
ECM 2432
TRAD arr Goldmund: Marching Through Georgia
Keith Kennif (pno)
TYPE 005