Programme 4: 12 November 2013
Resound Broadcasts 2013 - Programme Four
(scroll down for audio)

Leonie Holmes: The Fourth Station
Leonie Holmes is a lecturer in Composition and Music Studies at University of Auckland. She has written works for orchestra, chamber, choral, vocal and solo instrument, and receives frequent commissions from both professional and community groups. Stemming from her work as Composer-in-Schools in the 1990s, she is particularly interested in music education.

The Fourth Station is a work for solo cello, and was part of last year's project to re-record selected works. It was composed in 2008, and was a commissioned by the Presbyterian Church of Aotearoa, for the 'Stations of the Cross' Exhibition.

Leonie Holmes says of the work: "Uppermost in my mind as I wrote this short piece was the thought of a mother witnessing the suffering of a son, knowing she was powerless to change what was happening, and unable to protect her child. How would she overcome these feelings in order to provide comfort in a last brief meeting?"

The solo cellist in this recording was Ashley Brown, and it was recorded by Radio New Zealand Concert last year as part of Resound's re-record project, in collaboration with SOUNZ.
 

Dugal McKinnon: Untitled (counterfeit readymade #1)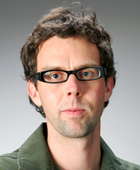 Dugal McKinnon is a composer and sound artist whose music encompasses acoustic, electronic and text media, and the intersection of these. His work has been performed in Asia, Australasia, Europe and North America. Dugal is also a writer on sonic art and contemporary music, with chapters on electroacoustic music in New Zealand published in Home, Land and Sea (Auckland: Pearson Educational, NZ), Just Like Us (Wellington: Steele Roberts), Erewhon Calling: Experimental Sound in New Zealand (Auckland: Audio Foundation). He's currently teaching composition and sonic arts at the New Zealand School of Music.

This work is called Untitled (counterfeit readymade #1) for baritone saxophone and marimba. It was commissioned by the contemporary music ensemble Stroma in 2005, and premiered by Lars Mlekusch and Arnold Marinissen, who feature in this live recording from that performance. It's based on saxophone improvisations by Wellington-based Jeff Henderson, transcribed by McKinnon.

Jack Body: Fire in the Belly

Jack Body's music covers almost all genres, including solo and chamber music, orchestral music, music-theatre, music for dance and film as well as electroacoustic music. A fascination with the music and cultures of Asia, particularly Indonesia, has been a strong influence. He has been commissioned by the Auckland Philharmonia, the NZ String Quartet, the NZ Symphony Orchestra, the BBC Scottish Orchestra, and many other groups, and has written three works for the Kronos Quartet.

In 1999 he was awarded an OMNZ for his services to music, and in 2004 he was honoured by the Arts Foundation of NZ as a laureate. Jack has been a passionate advocate for NZ music, beginning with the early Sonic Circus in Wellington in the 1960s, and has since organised three Asia Pacific Festivals in New Zealand featuring the contemporary and traditional music of New Zealand and her Asian neighbours. He has also been the editor of Waiteata Music Press since 1980.

This work Fire in the Belly is introduced below by composer and conductor Kenneth Young. NZTrio commissioned the work, and they perform in this live recording from 2007.
 

Anthony Ritchie: Then I Understood

Dunedin-based composer Anthony Ritchie has composed over 160 works in his career to date, and many have been published, recorded, and performed in numerous countries. He completed a Ph.D. on the music of Bartok in 1987, studying at the Bartok Archives in Budapest. That same year he returned home to be the Composer-in-Schools in Christchurch, before moving to Dunedin as Mozart Fellow (1988-9) at the University of Otago. He has written commissioned works for performers as diverse as the NZSO, Class Act Opera, and Footnote Dance Company. Anthony is currently Associate Professor of composition at Otago University, and combines his interest in composition with a passion for teaching and mentoring young composers.

His Resound work is Then I Understood, commissioned in 1996 by the Orpheus Choir of Wellington, to celebrate the 50th anniversary of UNICEF. It's set to poetry by Laura Ranger, and was made possible by funding from Creative New Zealand. This recording features the Orpheus Choir and the Wellington Sinfonia (now Orchestra Wellington) conducted by Philip Walsh. It was recorded live in concert at the Wellington Town Hall in 1996.