Monday, 29 June 2015
Jade String Quartet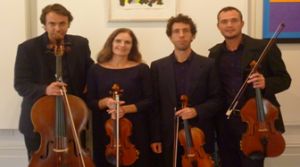 A Mozart quartet, a playful chant for killing a snake, school days at the monastery, and minimalism but not as you know it… if you think this sounds like a programme with the Auckland Chamber Orchestra you'd be spot on!
Since 1999, Peter Scholes has lead the ACO through a wide range of nutritious and delicious programmes such as this one, featured in their 2014 series. Mozart's String Quartet No 23 in F Major with the Jade Quartet, is accompanied by performances of Janacek's wind sextet, Mládi (Youth) and Revueltas' tantalising Sensemayá. A real gem is saved for last, a work rarely performed in New Zealand - Son of Chamber Symphony by John Adams.
Peter Scholes (conductor)
Recorded in Auckland by Radio New Zealand