Bella Kalolo and the Soul Symphony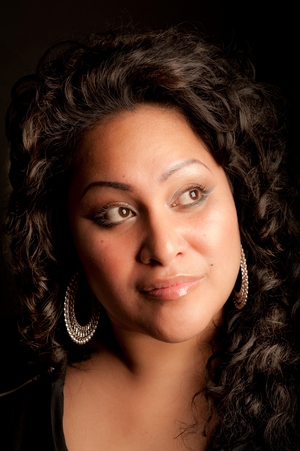 Bella Kalolo is New Zealand's own soul diva of Samoan Tongan and Ngati Porou descent. In this concert she performs with some of Wellington's best loved jazz and soul players who make up the Soul Symphony.
In this concert from the 2014 Wellington Jazz Festival, Bella performs mostly original tunes co-composed with husband and musical director Alistair Isdale.
Music journalist Martyn Pepperell described the concert like this:
"Espousing a mixture of Aretha Franklin/Jill Scott redolent soul (both classical and modern, yet with a pacific twist) and some rousing stand-up comedy, interspersed with touchingly personal emotional tales, Kalolo ripped through a sequences of songs off her debut album, Without The Paper, and threw a few tasty covers into the mix."
Image: Bella Kalolo Photo: Debbie Rawson, courtesy of Wellington Jazz Festival
Bella Kalolo (vocals), Stephanie Paris, Wini Baxter (backing vocals), Lex French (tpt), Blair Latham (tsax), Andre Paris (saxes), Andy Mauafua (gtr), Ben Wilcock (keys), Alistair Isdale (bass/ music director), Darren Mathiassen (drms)
KALOLO: The Road Ahead; KALOLO: Let Go; KALOLO/ISDALE: Kick; KALOLO/ISDALE: Be Happy; KALOLO/ISDALE: Mr Duncan; KALOLO/ISDALE: Nothing Else; GOFFIN/KING/WEXLER: Natural Woman; SEXTON: You're Losing Me; KALOLO/ISDALE: Without the Paper; KALOLO: Good Things; LEIBER/STOLLER: Fools Fall in Love
Recorded in the Wellington Opera House by Radio New Zealand Concert