Into the Storm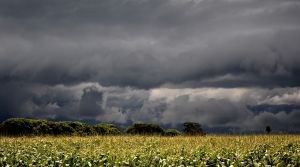 Four Sea Interludes are excerpts from English composer Benjamin Britten's opera Peter Grimes. They portray the harsh winter cold seascape, threatening sea swells and bitter storms. Britten ingeniously used these Interludes as scene changes, not only for making smooth transition between Acts, but also to go inside the character's mind. Peter Grimes was premiered as the first postwar operatic production (1945) and was recognized as a landmark for both Britten and English opera.
Britten's violin concerto is becoming more of a regular in the repertory of violin concertos. Tension and lyrical drama, topped with intense rhythm and artistic imagination is crucial in this concerto and Anthony Marwood performed with great persuasion.
 Anthony Marwood's slightly detached, rhythmically incisive playing suits the dry, distantly neoclassical world of the Concerto perfectly.
– The Guardian.com
We're also celebrating the 150th anniversary of the great Finnish composer Jean Sibelius with his Symphony No. 2. Luscious sweeping melodies that have Scandinavian taste to them. You can almost picture the landscape of his homeland; his heroic masterpiece is utterly compelling.
Anthony Marwood (vln), New Zealand SO/Thomas Søndergård
BRITTEN: Four Sea Interludes, from Peter Grimes; Violin Concerto in D minor Op 15
(Interval)
SIBELIUS: Symphony No 2 in D Op 43 (RNZ)
Live broadcast from Michael Fowler Centre, Wellington by Radio New Zealand