Spirit of Anzac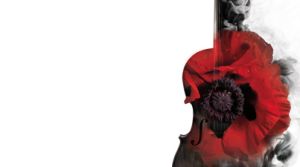 It's not that long since New Zealand and Australia played together... Surprisingly enough, cricket did happen at Gallipoli, most famously as a decoy while forces quietly quit the peninsula.
No sporting spectacles here – but a moving show of musical strength and solidarity for our lost, not forgotten, soldiers – who'd probably have smiled at the cricket analogy. For them, two jointly hosted, trans-Tasman concerts, broadcast close together, a bit like two semi-finals...
Michael Williams and James Ledger are the stand-out names here. Both commissioned by the New Zealand Symphony Orchestra and the Sydney Symphony Orchestra, respectively, to compose works on either side of the Tasman for these two Anzac Centenary memorial concerts.
Letters from the Front by Hamilton-born Michael Williams is based on correspondence from his own great grandfather Arthur Major who was killed in the 3rd battle of Passendale in 1917. Williams found Arthur's expressions of simple love from a father to his children deeply moving and they form the basis of the narration. His family still has the wallet, complete with cherished family photo, carried by Arthur in the trenches and shot right through by the bullet that killed him. Authorities were so overwhelmed by the sheer numbers of dead, Williams believes, that they didn't even clean off the blood and skin before returning it. The poignancy of family stories like this are what make musical tributes such as Williams' a must-hear experience.
War Music for choir and orchestra by Perth-based James Ledger uses text by Paul Kelly. These two new works are offset by two familiar, uplifting pieces, Copland's Fanfare for the Common Man and Vaughan Williams' Fantasia on a Theme by Thomas Tallis.
Madeleine Pierard (sop), George Henare (narrator), New Zealand Youth Choir, New Zealand SO/Benjamin Northey
COPLAND: Fanfare for the Common Man; M WILLIAMS: Symphony No 1, Letters from the Front; VAUGHAN WILLIAMS: Fantasia on a Theme by Thomas Tallis; LEDGER: War Music
Recorded in the Michael Fowler Centre by Radio New Zealand Concert and in the Sydney Opera House by the ABC