Thursday, 16 April 2015
Out of this World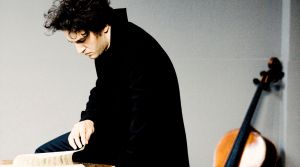 New Zealanders can almost call him their own. German cellist Nicolas Alstaedt first came to world attention here in 2006 when he won the Adam International Cello Competition in Christchurch.
A tour with the New Zealand Symphony Orchestra was part of the prize. In 2012, he played with the Auckland Philharmonia, doing the Tongariro Crossing into the bargain to deal to his jetlag.
Tonight, he's back with the Aucklanders, performing Henri Dutilleux's luminous concerto, A whole distant world…, inspired by the poetry of Charles Baudelaire and originally written for the great Russian cellist Mstislav Rostropovich.
In this live broadcast, we'll also hear another Shostakovich symphony in the hands of the APO's main man Eckehard Stier, music director of the APO since 2009.
Maestro Stier has built his reputation on the Shostakovich symphonies. Most recently, his No. 12 was described as "the true stand out performance of the evening" in the orchestra's final 2014 concert.
This time he tackles No 5, famously conceived under Stalin's intense scrutiny. If ever there was a work Shostakovich's life depended on, it was this one. Remarkably he pulled it off, capturing enough apparent triumph for the party, and tribulation for the public, to satisfy both.
Listen to Nicolas Alstaedt in conversation with RNZ Concert's Eva Radich in Upbeat.
Nicolas Alstaedt (cello), Auckland Philharmonia/Eckehard Stier
BACH: First movement, Overture, from Orchestral Suite No 3 in D BWV1068; DUTILLEUX: Cello Concerto, Tout un monde lointain
(Interval)
SHOSTAKOVICH: Symphony No 5 in D minor Op 47 (RNZ)
This is a live broadcast from the Auckland Town Hall by Radio New Zealand Concert