Wednesday, 15 April 2015
Andris Nelsons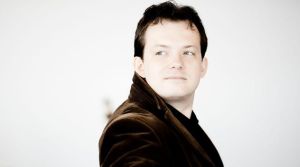 Andris Nelsons got a top recommendation recently in Radio New Zealand Concert's The Critic's Chair for his Strauss disc of tone poems with the City of Birmingham Symphony Orchestra. "Second to none," said Robert Johnson.
The 35-year-old Latvian conductor may be the "B" side in tonight's concert from the Deutsche Welle Festival. Pride of place goes to Daniel Barenboim – but hey, surely any glimpse is a good glimpse of great talent on the rise.
Nelsons will conduct Strauss' Symphonic Fantasy on Die Frau ohne Schatten (The Woman Without a Shadow), a symphonic fantasy not on the recent CBSO recording.
Daniel Barenboim is now 72 and doesn't seem to be letting up. This year, if you're heading to London, catch him in The Barenboim Project 2015 as pianist, playing all Schubert's Piano Sonatas over four recitals, or as conductor, in two concerts with the Berlin State Orchestra, who he's been musical director of since 1992.
Or simply tune in tonight, from the comfort of your own home, as he takes these Berliners through two great Wagner opera overtures, The Mastersingers of Nuremberg, Prelude and Prelude & Liebestod, from Tristan & Isolde as well as Strauss' tone poem Ein Heldenleben.
Listen to the review of the Andris Nelsons disc of Strauss tone poems.
(2) Berlin State Orch/Daniel Barenboim; West German Radio SO/Andris Nelsons
WAGNER: The Mastersingers of Nuremberg, Prelude; Prelude & Liebestod, from Tristan & Isolde; STRAUSS: Ein Heldenleben Op 40; Symphonic Fantasy on Die Frau ohne Schatten
Recorded in the Semper Opera House, Dresden by Deutsche Welle and provided by WFMT